Medinatech
MedinaTech
TICAL - Technology Information Center for Administrative Leadership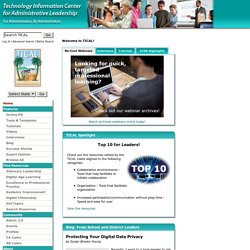 New Year's Challenge: Jump In! by Geoff Belleau Most of us entered a career in education because of the students. The rapidly changing, technology-driven, mobile world is changing those students. They are still children—or young adults—but they have access to an unprecedented amount of information, and their social interactions have changed. In addition to Facebook, they use social tools like Twitter, Instagram, Pinterest, Snapchat, Tumblr, Kik, and Vine among others.
playlist 8 talks to inspire TED Prize wishes TED Prize winners turn ideas into world-changing projects, with $1 million in seed money and the TED community's support.
Adora Svitak on TED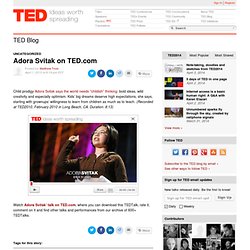 unnamed pearl
Teachers Transform Commercial Video Game for Class Use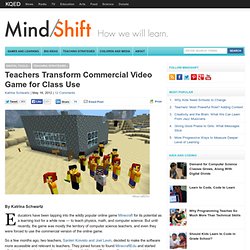 Digital Tools Teaching Strategies MinecraftEDU By Katrina Schwartz Educators have been tapping into the wildly popular online game Minecraft for its potential as a learning tool for a while now — to teach physics, math, and computer science.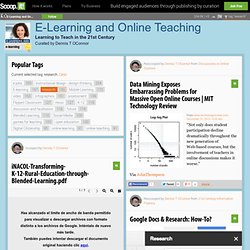 Abstract: In today's hypermedia landscape, youth and young adults are increasingly using social media platforms, online aggregators and mobile applications for daily information use. Communication educators, armed with a host of free, easy-to-use online tools, have the ability to create dynamic approaches to teaching and learning about information and communication flow online. In this paper we explore the concept of curation as a student- and creation-driven pedagogical tool to enhance digital and media literacy education. We present a theoretical justification for curation and present six key ways that curation can be used to teach about critical thinking, analysis and expression online.
E-Learning and Online Teaching
Bethke_Tech_Permit.png (PNG Image, 862 × 535 pixels)
School Budget Hold'em :: ERS
Teaching Strategies Lenny Gonzales All too often, schools find that they've invested heavily in education technology only to see these tools unused or classroom instruction unchanged.
Rewards of Role Reversal: Teachers Learn, Students Teach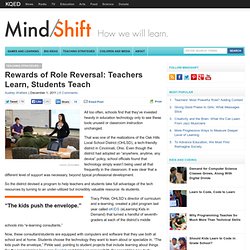 Virtual School Symposium 2011 Wiki - home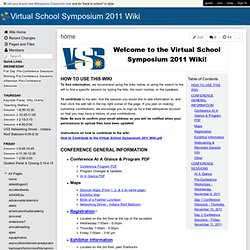 To find information, we recommend using the links below, or using the search to the left to find a specific session by typing the title, the room number, or the speakers.To contribute to the wiki, find the session you would like to add information to, and then click the edit tab in the top right corner of the page. If you plan on making numerous contributions, we encourage you to sign up for a free wikispaces account so that you may have a history of your contributions.Note: Be sure to confirm your email address so you will be notified when your permissions to upload files have been updated!Instructions on how to contribute to the wiki:How to Contribute to the Virtual School Symposium 2011 Wiki.pdf
Mobile Devices in the Classroom
Blended Learning in Practice
Interactive Floor, Wall & Advertising Projection : Free Interactive Projection Software : PO-MOtion.com
Digital Curricular Resources