Security
Third of adults 'use smartphone' says Ofcom report. 4 August 2011Last updated at 00:26 More smartphone time is spent on Facebook than any other service according to Ofcom Nearly one in three adults in the UK now uses a smartphone, according to a report by the telecoms regulator Ofcom.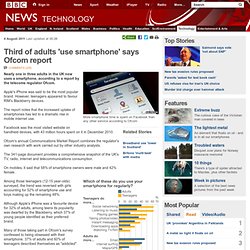 Why won't the police tell journalists what is going on? | Media. It's 10.40 on a Sunday night in Gateshead as a woman stands alone at a station waiting for a train.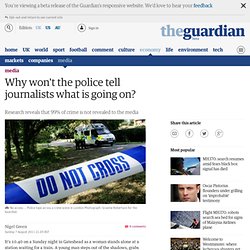 A young man steps out of the shadows, grabs her and sexually assaults her, before escaping into the night. The attacker is caught on CCTV and police soon have excellent pictures. So what do they do? Do they release the story to the media so they can warn other women to be on their guard – and help track down the suspect ?
Traffic from Facebook to Top Newspaper Sites Nearly Doubles Over Year in Europe. In June 2011, Facebook accounted for at least 7.4 percent of traffic going to the top five Newspaper sites in Europe.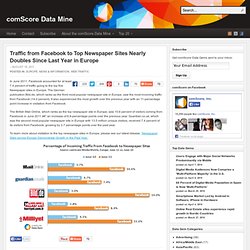 The German publication Bild.de, which ranks as the third most popular newspaper site in Europe, saw the most incoming traffic from Facebook (14.0 percent). It also experienced the most growth over the previous year with an 11-percentage point increase in visitation from Facebook. Democracies learn from Mubarak's example. For the past eight months, the world has watched, captivated, as from one country to the next, youth have manipulated the digital tools that have become part and parcel of their everyday lives to serve their activism.
The world too has witnessed as, in each country, state actors have made various attempts to quash the use of such tools. In each case, governments have learned from what came before. While Tunisia's Ben Ali sought to open up the internet, promising an end to censorship in a speech just one day before fleeing the country, Egypt's Mubarak took from his failure what not to do, preferring instead to clamp down on social media sites one by one, eventually shutting down the internet entirely. Greater Manchester Police Names & Shames Rioters on Twitter. In the name of swift and public justice, the Greater Manchester Police has begun tweeting the identities of people convicted of criminal damage and disorder during riots this week in Manchester and Salford.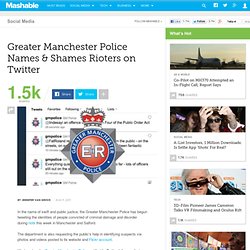 The department is also requesting the public's help in identifying suspects via photos and videos posted to its website and Flickr account. Wednesday, the Greater Manchester Police notified its Twitter followers that criminals were going through the courts and would soon be "named and shamed. " New: Three Reports on Circumvention Tool Usage, International Bloggers, and Internet Control. August 18, 2011 The Berkman Center is pleased to release three new publications as part of our circumvention project.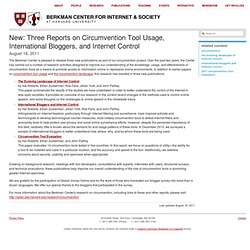 Over the past two years, the Center has carried out a number of research activities designed to improve our understanding of the knowledge, usage, and effectiveness of circumvention tools as a means to promote access to information online in repressive online environments. In addition to earlier papers on circumvention tool usage and the circumvention landscape, this research has resulted in three new publications: Please Britain, don't let Mubarak inspire your response to unrest | Mona Eltahawy.
Police officers in riot gear block a road near a burning car on a street in Hackney, east London.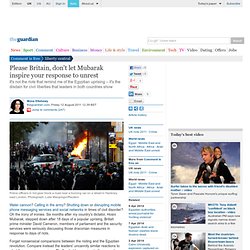 Photograph: Luke Macgregor/Reuters Water cannon? Calling in the army? Shutting down or disrupting mobile phone messaging services and social networks in times of civil disorder? Oh the irony of ironies. Twitter blocking: the technical and legal issues. In the case of Facebook and Twitter, police intelligence gathering is already fairly advanced.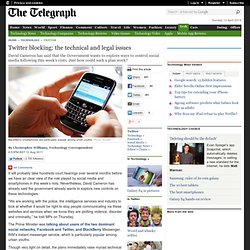 These services are quasi-public communications media, with many messages viewable by anyone, and security firms lining up to provide authorities with software tools to make mass, real time monitoring easier. But not all rioters are stupid enough to arrange their mayhem in public, and matters become trickier around private messages. The police have powers under the Police and Criminal Evidence Act to seize stored messages, but the process involves a mountain of paperwork and would presumably be next to useless in an ongoing crisis.
Censoring mobiles and the net: how the West is clamping down. Some say riots can be prevented by blocking communications - but is this a step too far for Western democracies?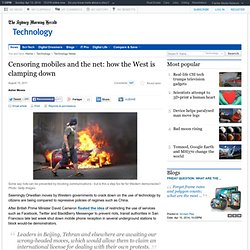 Photo: Getty Images Seemingly Orwellian moves by Western governments to crack down on the use of technology by citizens are being compared to repressive policies of regimes such as China. After British Prime Minister David Cameron floated the idea of restricting the use of services such as Facebook, Twitter and BlackBerry Messenger to prevent riots, transit authorities in San Francisco late last week shut down mobile phone reception in several underground stations to block would-be demonstrators. Leaders in Beijing, Tehran and elsewhere are awaiting our wrong-headed moves, which would allow them to claim an international license for dealing with their own protests. Journalists Not Evidence Gatherers | London Photographers' Branch. 7th August 2011.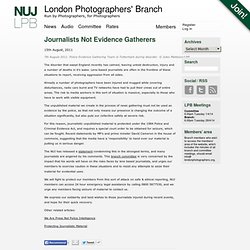 Police Evidence Gathering Team in Tottenham during disorder. © Jules Mattsson/LNP The disorder that swept England recently has calmed, leaving untold destruction, injury and a number of deaths in it's wake. Lens-based journalists are often in the frontline of these situations to report, receiving aggression from all sides. Already a number of photographers have been injured and mugged while covering disturbances, radio cars burnt and TV networks have had to pull their crews out of entire areas.
The risk to media workers in this sort of situation is massive, especially to those who have to work with visible equipment. MI5 joins social messaging trawl for riot organisers | UK news. The security service MI5 and the electronic interception centre GCHQ have been asked by the government to join the hunt for people who organised last week's riots, the Guardian has learned. The agencies, the bulk of whose work normally involves catching terrorists inspired by al-Qaida, are helping the effort to catch people who used social messaging, especially BlackBerry Messenger (BBM), to mobilise looters.
A key difficulty for law enforcers last week was cracking the high level of encryption on the BBM system. BBM is a pin-protected instant message system that is only accessible to BlackBerry users. MI5 and GCHQ will also help the effort to try to get ahead of any further organisation of disturbances. The Evolving Landscape of Internet Control. Published August 18, 2011 Authored by Hal Roberts, Ethan Zuckerman, Rob Faris, Jillian York, John Palfrey Download PDF Over the past two years, we have undertaken several studies at the Berkman Center designed to better understand the control of the Internet in less open societies.
New: Three Reports on Circumvention Tool Usage, International Bloggers, and Internet Control. Secure chat solution needed. Help. New Hacking Tools Pose Bigger Threats to Wi-Fi Users. Analysis: UK social media controls point to wider info war.
---