Clic de fourmi : des sites à découvrir !
Tux Paint is a free, award-winning drawing program for children ages 3 to 12 (for example, preschool and K-6). Tux Paint is used in schools around the world as a computer literacy drawing activity. It combines an easy-to-use interface, fun sound effects, and an encouraging cartoon mascot who guides children as they use the program. Kids are presented with a blank canvas and a variety of drawing tools to help them be creative. (See the full list of features.) October 16, 2013 — Tux Paint lead developer Bill Kendrick will be joining Susie Kameny, Curriculum Technology Integration Specialist and Vice President of CUE San Francisco, at the fall 2013 Computer-Using Educators (CUE) conference in Northern California later this month, to talk about Tux Paint in the elementary classroom.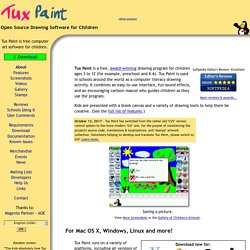 Présentation de Mon abécédaire multimédia
download.OOo4Kids.org | Welcome, Bienvenue, Willkommen, Bienvenido, Bem-Vindo...