FaisalParuk5
A memorial service was held for Olwyn Vanin Cowley after he was shot to death by three men posing as potential buyers of his car.
friends-family-honour-gumtree-victim-1.1377115#.UE3ZDZbXTwo
Sibusiso Duma
Polo star's killer jailed for 18 years - Daily News | News | IOL.co.za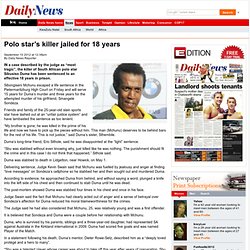 Iraq's vice-president, Tariq al-Hashemi, has denied being behind the killings and says the charges are politically motivated.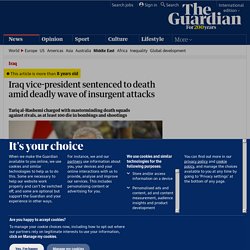 Iraq vice-president sentenced to death amid deadly wave of insurgent attacks | World news
we-won-t-dump-sexwale-1.1379054#.UE3H5qsOU94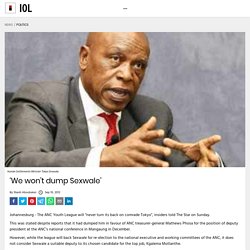 Human Settlements Minister Tokyo Sexwale. Related Stories Johannesburg - The ANC Youth League will "never turn its back on comrade Tokyo", insiders told The Star on Sunday.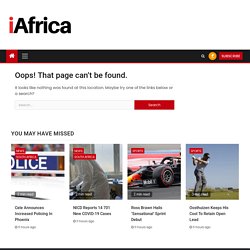 news | sa news | 'SA delivering service' - JZ
South Africa has achieved far more in 18 years in service delivery than any other country, President Jacob Zuma said on Monday. "No country could have produced the delivery we have made in 18 years," he told the SA Local Government Association (Salga) national conference in Midrand. He said government successes in service delivery were lost in the "hurley-burley" of competitive politics.
robertmarawa : Here is the new man that's
The faces of Marikana: Part III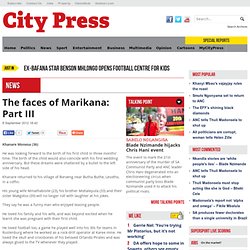 The faces of Marikana: Part III
Elderly couple murdered on farm An elderly couple has been found murdered on their Trompsburg farm, Free State police have said. Johan Fourie (70) and Cecile Fourie (73), were last seen alive around 2pm yesterday after having lunch with their son in town, said Captain Harry Nagel.
Elderly couple murdered on farm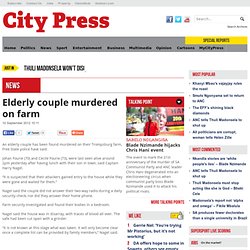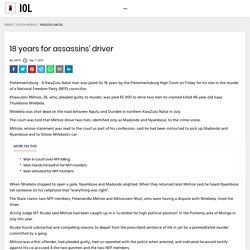 Related Stories Pietermaritzburg - A KwaZulu-Natal man was jailed for 18 years by the Pietermaritzburg High Court on Friday for his role in the murder of a National Freedom Party (NFP) councillor.
18-years-for-assassins-driver-1.1378385#.UE3JMec99yc
The faces of Marikana: Part V Mafolisi Mabiya (28)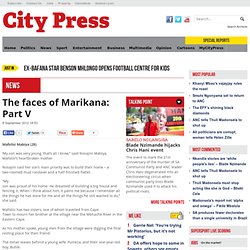 The faces of Marikana: Part V
Durban - Transporting goods by road costs billions of rand annually, which made a strong case for SA to improve the quality of its rail infrastructure which was a critical element of building a globally competitive transport system.
Railroads essential for economic growth - Business News | IOL Business | IOL.co.za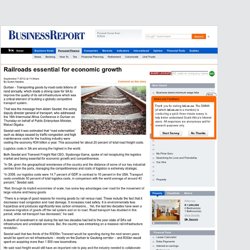 Dr Imtiaz Sooliman
Givers set up camp at Lonmin - Daily News | News | IOL.co.za
Marikana murders: The world now believes
As survivors of the violence at Small Koppie and the veld around it give their eyewitness accounts, there is no longer doubt: Among the policemen deployed at Marikana on 16 August, some intended murder. We are willing to believe that the televised police shooting at the crowd which reacted to being penned in and tear-gassed, was the result of fear, bad organisation and poor intelligence.
The outcome of the ANC's elective conference in Mangaung at the end of the year could have a big effect on South Africa's future, former president FW de Klerk said. "I do think the choice of leadership in this December can positively or negatively effect our future in the short and the medium term," he said yesterday, speaking at a Cape Town Press Club memorial dinner.
Mangaung choices crucial – De Klerk
Chinese car maker gets going in Coega - Business News | IOL Business | IOL.co.za
Roy Cokayne Construction of the R600 million vehicle and truck assembly plant in the Coega industrial development zone (IDZ) for First Automobile Works (FAW) was set to start in November, the Chinese vehicle manufacturer said last week.
KwaZulu-Natal politician Wandile Mkhize, who was gunned down outside his Manaba home on Saturday night, had warned police that he was receiving death threats. However, the threats – delivered in person and over the phone – had not been taken seriously, his friends said yesterday as they planned his funeral. Mkhize (34) had been home for less than an hour after returning from the ANC's policy conference, held in Johannesburg last week, when he was killed.
KZN politician 'received death threats'
Be vigilant, Zuma warns ANC members
Two ANC branch leaders killed in KZN
sa-s-richest-prefer-cape-town-1
Gold Fields workers on strike - Companies | IOL Business | IOL.co.za
'SA broadband unaffordable'
services-worth-r10-8bn-for-city-poor-1.1378057#.UE3YMogbSmA
Twitter Dating - Plenty of Tweeps
Every society is only three meals away from revolution
bold-new-plan-for-cape-flats-1.1377104#.UE3ZXXKerh0
the-roads-that-lead-to-the-future-1.1377106#.UE3ZzUqrE9I
The Government of Mongolia will have 16 ministries | Mongolia Business and Mongolian Daily Business News
Here's The REAL Reason Twitter's Mobile Ad Revenue Is Crushing Facebook's In 2012
Anti-Zuma lobby meet to decide leaders
Durban's finances in 'sterling shape' - Business News | IOL Business | IOL.co.za
Daily News | IOL.co.za
Possible severe thunderstorms and heavy rainfall expected | WeatherSA Blog
Shell urges responsible Karoo fracking
Holomisa willing 'to rescue' Lonmin workers
Net closes in on Malema
AyobaMTN : How does winning R1 Million
r1-5-bn-city-revamp-proposed-1.1377120#.UEnqD4s-kdo
TrafficSA : (Durban) - Car washed away
Weather set to clear from today - Newswatch - East Coast Radio
No More LIVE Music for Durban? - Rolling Stone South Africa
MTN8
A young man was arrested in Helsinki - What's Up Finland? English
Kindle Fire Specs Versus iPad Specs
How Amazon Can Afford To Charge So Little For Kindles
Kindle Fire UK release 25th October
France's Hollande pledges spending cuts, tax reforms
Donate today
Floods disrupt Ladysmith water supply - Newswatch - East Coast Radio
homeless-man-can-t-recall-acid-attack-1.1377322#.UE3abKM-9HM
Lead yourselves when leaders fail you – Malema
President Jacob Zuma to address SALGA National Conference
Romania Pledges to Scrutinise Mine Permits
Visa Exec Predicts Phone Payment Revolution - Money News Story - KGTV San Diego
"President Romney" – How to Prevent Those Two Words From Ever Being Spoken
PARALYMPICS CLOSING LONDON SEPT 9th 2012
Amazon's New Kindles: Everything You Need to Know
Kindle Fire HD announced for UK launch
Kindle Fire HD: How Amazon's new tablet will revolutionize books, movies, and games.
With Kindle Fire HD, Amazon Challenges Apple on Its Own Turf | Gadget Lab
CHART OF THE DAY: Kindle Books Sold
Look How Much Romney Spends On Twitter Ads Every Day
Sennen's Okage - TheNewsTurkey
Pastor sends list of Boko Haram sponsors, video evidence to David Mark
Platinum shrouded in controversy
beach-upgrade-reaches-midpoint-1.1379126#.UE3ISGYmi4s
Govt in control of Marikana situation – Chabane
taliban-threaten-to-kill-prince-harry-1.1379081#.UE3HytZlQP0
HP increases job cuts to 29,000 | Business Tech
DanaPerino : It's been a couple days,
KatyKatopodis : Another picture of #Lonmin
Secularism
SA could get rate cut in November - Business News | IOL Business | IOL.co.za
Twitter Charts
Nigeria has 77 wild polio cases in 10 states- NPHCDA - Premium Times Nigeria
SA ranked 40 in food security index
The hunger wars of our future
Win a Kindle Fire HD: answer a question about Charles Dickens
Francis Fukuyama to give lecture on democracy in Mongolia | Mongolia Web News
three-busted-for-murder-after-police-offer-a-reward-1.1378322#.UE3X7QoM91c
Footballer tortures girlfriend to death, feeds her dismembered body to his dogs
Finance Minister, Alexander Chikwanda announces the grabbing of RSZ by Government
lucky-to-be-alive-after-n1-attack-1.1379465#
The Great Shrinking Economy Of China
People will die if truckers stick to speed limits, says Lincolnshire lorry driver
Today in History | YFM
probe-into-harbour-oil-spill-1.1376174#.UE3Jyjk4Rgs
dog-fight-ends-in-murder-1.1377340#.UE3Jg2bQs3g
China opens shale gas to foreign bidders
Xstrata board demands more details on revised Glencore merger offer - Business News | IOL Business | IOL.co.za
Mayoral boost for Bluff beach plans - General | looklocal South Durban
MEC helps elderly Bluff crime victim - General | looklocal South Durban
Share photos and videos on Twitter
Top 10 Most Pirated Movies on BitTorrent
InFocus » International Forces to be Deployed in DR Congo
@FaisalParuk3/conversationlist
Mitch @ Market On Main
Private browsing bug fixed in Firefox 15.0.1 | Internet & Media
FaisalParuk3 (FaisalParuk3) sur Twitter