St jacques de compostelle
camino del norte, chemin côtier
Santiago de Compostela is the destination for all the Camino routes; you can walk, cycle, or even ride these walking paths. Most pilgrims walk and plan and organize everything themselves. This is where we can help – we are not a tour company – but we pass on our experience of walking, how hard it was, what walking gear we needed and how fit we had to be before setting out – see all the frequently asked questions. Where to Start Exploring These pages are intended to help you plan your pilgrimage, (or walking holiday), and hopefully keep you in contact with other pilgrims after you have gone back to your daily life.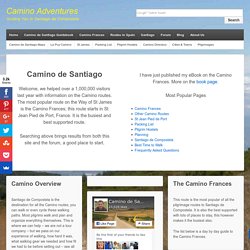 Les chemins vers Saint-Jacques de Compostelle
www.chemins-compostelle.com - Toutes les informations pour parcourir le chemin de Saint Jacques de Compostelle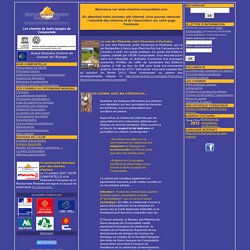 Autrefois, les évêques délivraient aux pèlerins une attestation qui leur permettait de traverser les territoires, tout en authentifiant leur condition de pèlerin. Aujourd'hui, la crédencial (délivrée par les associations) et la créanciale (délivrée par l'Eglise) en sont les héritières. Elles ouvrent à un devoir de respect et de tolérance et permettent au pèlerin contemporain : • d'accéder aux gîtes qui lui sont réservés (la crédencial est obligatoire en Espagne et recommandée en France ainsi que dans les autres pays), • d'obtenir la Compostela (certificat de pèlerinage) à son arrivée à Saint-Jacques de Compostelle. La crédencial constitue également un appréciable souvenir, porte restée ouverte sur un inoubliable périple… Attention ! Toutes les crédencials, quelles qu'elles soient, comportent un texte d' "accréditation", qui n'a qu'une valeur symbolique.
A VTT sur les chemins de Compostelle
Saint Jacques et Compostelle, p?lerinages, mythes, r?ves, histoire et patrimoin