Geolocalisation, cartographie
Métadonnées (Données sur la donnée)
geosource-
Outil simple de catalogage de données et services à références spatiales. Consulter et gérer vos métadonnées géographiques selon les normes internationales et selon les règles de mise en œuvre de la directive INSPIRE. Vos métadonnées géographiques pourront également être publiées simplement vers le Géocatalogue.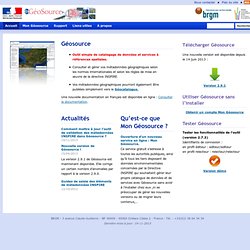 ★ 5.0 Stars (22) 3 Downloads (This Week) Last Update: Download Expire_13_Installeur_Linux.jar Browse All Files Windows Mac Linux Expire permet de saisir et d'exporter une fiche de métadonnées selon la norme ISO 19139, ISO19115 et ISO19110 conformément à la directive européenne INSPIRE.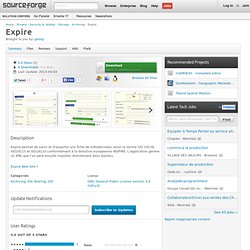 Expire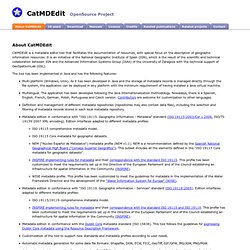 CatMDEdit is a metadata editor tool that facilitates the documentation of resources, with special focus on the description of geographic information resources. It is an initiative of the National Geographic Institute of Spain (IGN), which is the result of the scientific and technical collaboration between IGN and the Advanced Information Systems Group (IAAA) of the University of Zaragoza with the technical support of GeoSpatiumLab (GSL). The tool has been implemented in Java and has the following features: Multi-platform (Windows, Unix). As it has been developed in Java and the storage of metadata records is managed directly through the file system, the application can be deployed in any platform with the minimum requirement of having installed a Java virtual machine. Multilingual.
CatMDEdit
CSI Consortium for Spatial Information
MDweb geocataloging tool - Home
An open source tool for cataloging and locating information MDweb, created for this context, is a free tool for cataloging and locating resources (data, documents and services) that are accessible over the web. It is based on current geographic-information metadata (ISO 19115, 19119) and communication (OGC's CSW-2) standards and conforms to the rules for implementing metadata and the associated discovery services of the INSPIRE directives.