DADA
DADA - Introduction
"Everybody can Dada" —Dada-Fair, Berlin, poster, 1919 Dada blasted onto the scene in 1916 with ear-splitting enthusiasm: rowdy, brazen, irreverent, and assaulting. Its sounds were clamorous, its visions were shocking, and its language was explosive. Yet Dada was not aimless anarchy.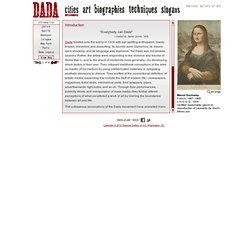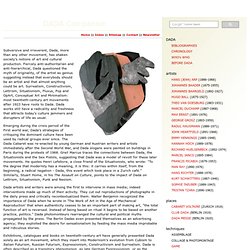 DADA Companion
Subversive and irreverent, Dada, more than any other movement, has shaken society's notions of art and cultural production. Fiercely anti-authoritarian and anti-hierarchical, Dada questioned the myth of originality, of the artist as genius suggesting instead that everybody should be an artist and that almost anything could be art. Surrealism, Constructivism, Lettrism, Situationism, Fluxus, Pop and OpArt, Conceptual Art and Minimalism: most twentieth-century art movements after 1923 have roots to Dada. Dada works still have a radicality and freshness that attracts today's culture jammers and disrupters of life as usual. Emerging during the crisis period of the First world war, Dada's strategies of critiquing the dominant culture have been used by radical groups ever since.
This Web site is designed to provide information on the resources and services of the International Dada Archive at the University of Iowa Libraries. It is the gateway to the International Online Bibliography of Dada. As the site is developed, it will also become a resource for additional information about the historic Dada movement and the individual Dada writers and artists, as well as links to other Internet resources.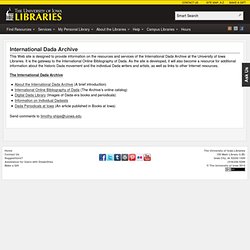 Dadaists - The International Dada Archive - The University of Iowa