DADA
DADA - Introduction. "Everybody can Dada" —Dada-Fair, Berlin, poster, 1919 Dada blasted onto the scene in 1916 with ear-splitting enthusiasm: rowdy, brazen, irreverent, and assaulting.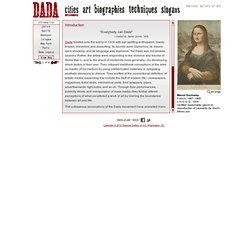 Its sounds were clamorous, its visions were shocking, and its language was explosive. Yet Dada was not aimless anarchy. DADA Companion. International Dada Archive. This Web site is designed to provide information on the resources and services of the International Dada Archive at the University of Iowa Libraries.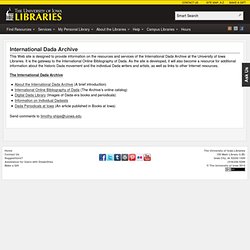 It is the gateway to the International Online Bibliography of Dada. As the site is developed, it will also become a resource for additional information about the historic Dada movement and the individual Dada writers and artists, as well as links to other Internet resources. Dadaists - The International Dada Archive - The University of Iowa.
---