Games! Have you heard about USgamer.net? It covers the best in video gaming from an American perspective. Click here to visit! x Sign in Create an account
EVO 04 - Justin Wong vs Daigo
Modern video games mean big business, and big controversy. Yet most of the charges levelled against games—that they stunt minds and spark addiction—are based on an outdated understanding of what gamers do when they sit down to play Discuss this article on First Drafts, Prospect 's blog Mogwai is cutting down the time he spends playing World of Warcraft. Twenty hours a week or less now, compared to a peak of over 70.
Old but fantastic article on gaming
"Right now, there's nobody younger than me that I feel threatened by. I haven't met anyone that I felt possesses the skill to surpass me in the future. I'm not over-evaluating myself.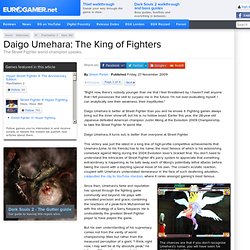 Daigo Umehara: The King of Fighters Interview | Eurogamer