Cosillas bonitas para niñas y asi
Swellmayde. HelloGiggles. Beautiful naked girls with tattoos, nude tattooed girls, naked emo girls, nude pin up girls, naked punk rock girls | Suicide Girls. Must Have Cute - Cute Kawaii Stuff. Must Have Cool will no longer be updated as of today, May 8th.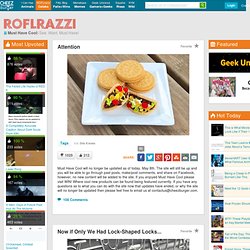 The site will still be up and you will be able to go through past posts, make/post comments, and share on Facebook, however, no new content will be added to the site. If you enjoyed Must Have Cool please visit WIN! Where cool new products can be found being featured currently. If you have any questions as to what you can do with the site now that updates have ended, or why the site will no longer be updated then please feel free to email us at contactus@cheezburger.com.
Drop Dead Cute - Kawaii for Sexy Ladies. Chicki - Kawaii wonderland. Cute fashion accessories and gift store ----====++++====---- Hello Adorable! - Cute Animals and Loads of Adorable Things to Buy, Eat, Make or Just Look At. Hawaii Kawaii Blog - Kawaii, random cuteness and silly stuff. The cute octopus. Super Cute Kawaii!!
---