UX
A wireframe kit for Google Drawings and 5 reasons it beats Omnigraffle and Visio - Morten Just. I've been playing around with the newest addition to Google Docs, Google Drawings, and I'm quite liking it.
I tried drawing a few diagrams and even a wireframe, and it turns out the basic drawing interactions are just as good – in some cases even better – than what I'm used to in Omnigraffle and Fireworks. 5 reasons Google Drawings beats Viso and Omnigraffle We know the cloud computing arguments, and they certainly apply to wireframes It's live. The entire team can work on the same document and see each other's work instantlyThe wireframes live in the cloud, no sending files around, no outdated documentsThe risk of losing data is zero.
iOS Design Stencils for OmniGraffle | Broom Of the System. Free Sketching & Wireframing Kit. Sketching & Wireframing kit is a free set of elements for sketching and wireframing.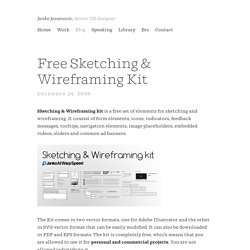 It consist of form elements, icons, indicators, feedback messages, tooltips, navigation elements, image placeholders, embedded videos, sliders and common ad banners. The Kit comes in two vector formats, one for Adobe Illustrator and the other in SVG vector format that can be easily modified. It can also be downloaded in PDF and EPS formats. The kit is completely free, which means that you are allowed to use it for personal and commercial projects. Pete LePage on the Web » The Anatomy of a Great Chrome Web Store Listing.
Your first chance to make a great impression with a new user is often on your application listing page in the Chrome Web Store.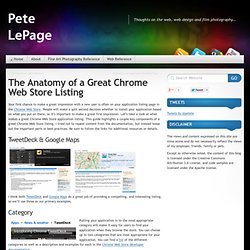 People will make a split second decision whether to install your application based on what you put on there, so it's important to make a great first impression. Let's take a look at what makes a great Chrome Web Store application listing. This guide highlights a couple key components of a great Chrome Web Store listing. Pete LePage on the Web » What Makes For A Great Web App? What makes a web application great?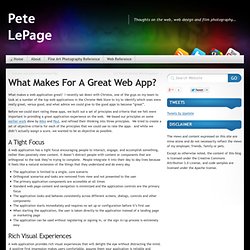 I recently sat down with Christos, one of the guys on my team to look at a number of the top web applications in the Chrome Web Store to try to identify which ones were really great, versus good, and what advice we could give to the good apps to become "great". Before we could start rating these apps, we built out a set of principles and criteria that we felt were important in providing a great application experience on the web. We based our principles on some earlier work done by Mike and Paul, and refined their thinking into three principles. We tried to create a set of objective criteria for each of the principles that we could use to rate the apps – and while we didn't actually assign a score, we wanted to be as objective as possible.
A Tight Focus. Futurico UI Pro - Advanced User Interface Elements Pack. Futurico UI is the one of world's biggest user interface elements pack.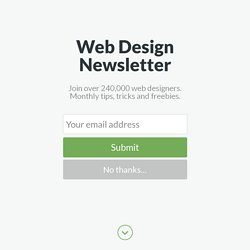 This extraordinary collection contains more than 200 web design elements to use in any design or application and for projects of all styles and concepts. All the elements in this pack are editable and available in fully-layered PSD (rasterized) format for easy integration. The pack includes three sets of elements in different colors and two examples of use in web design, showing how a single UI kit can help you create very different solutions. Magazine : Le Guide des Métiers du Design Interactif et du Web 2011-2012 - ressources-web. Notre partenaire Designers Interactifs vient de publier il y a quelques jours, la nouvelle édition du guide des métiers du design interactif.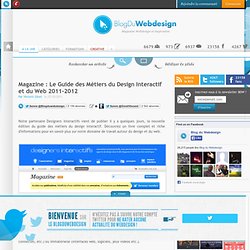 Découvrez un livre complet et riche d'informations pour en savoir plus sur notre domaine de travail autour du design et du web. Créée en 2006, *designers interactifs* est une association dont l'objectif est d'organiser et de promouvoir les métiers du design numérique. Elle s'adresse aux designers salariés et indépendant, aux écoles, aux agences, et aux entreprises qui ont recours au design numérique sous forme matérielle (téléphones, objets connectés, etc.) ou immatérielle (interfaces web, logiciels, jeux vidéos etc.). Pour en savoir plus :
Mockups. Take a second.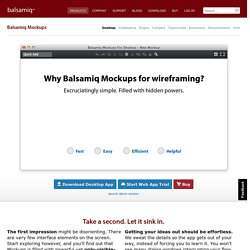 Let it sink in. The first impression might be disorienting. There are very few interface elements on the screen. Start exploring however, and you'll find out that Mockups is filled with powerful yet only-visible-when-you-need-them features. The difference between a UX Designer and UI Developer « Melbourne, as in the city. I've recently found myself trying to explain the difference between the skills I bring to a project as a UX Designer and why I'm not able to cover the role of a dedicated UI Developer.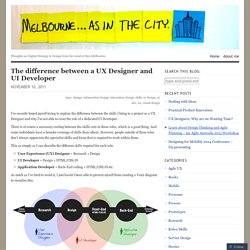 There is of course a necessary overlap between the skills-sets in these roles, which is a good thing. And some individuals have a broader coverage of skills than others. Are your users S.T.U.P.I.D? It is an honest question: how smart are your users?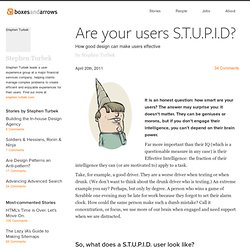 The answer may surprise you: it doesn't matter. They can be geniuses or morons, but if you don't engage their intelligence, you can't depend on their brain power. Far more important than their IQ (which is a questionable measure in any case) is their Effective Intelligence: the fraction of their intelligence they can (or are motivated to) apply to a task. Graffletopia.
Enfants
50 Useful and Free Web UI, Mobile UI and Wireframe Kits. Here we are featuring 50 useful, free and spanking new Web UI and wireframes resources that you will definitely love.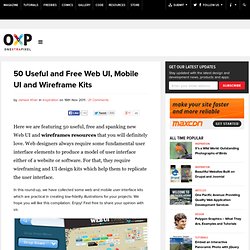 Web designers always require some fundamental user interface elements to produce a model of user interface either of a website or software. For that, they require wireframing and UI design kits which help them to replicate the user interface. A Look Inside Mobile Design Patterns.
Patterns for mobile application design Design patterns for mobile are emerging as the platform matures. Theresa Neil's new book Mobile Design Pattern Gallery provides solutions to common design challenges. Read a sample chapter on Invitations and learn how to immediately engage your customers with your application. We recently had a new mobile project starting and all of our experienced mobile designers were booked. Touch Gesture Reference Guide. The Touch Gesture Reference Guide is a unique set of resources for software designers and developers working on touch-based user interfaces including iPhone, Windows 7, Windows Phone 7, Android, and more.
The guide contains an overview of the core gestures used for most touch commands. It tells how to use these gestures to support major user actions; provides visual representations of each gesture to use in design documentation and deliverables; and additionally provides an outline of how popular software platforms support core touch gestures. All in seven pretty PDF pages. Designing Apps for Kids.
With the experience of having built ABCKit and many hours of testing different apps for kids behind us, we have noticed some recurring app design problems. For those working in this field, we would like to share some suggestions for designing and devising apps for children to help ensure the apps are correctly used by preventing some common design issues. If you've interacted with preschoolers (ages two to five), you're aware that they do not quite grasp the concept of patience, especially when it comes to digital devices.
A splash screen that takes more than ten seconds to load will give rise to comments from kids such as, "Mommy, it doesn't work. " They will get frustrated and lose their patience the first time they use the app. Magazine : Le Guide des Métiers du Design Interactif et du Web 2011-2012 - ressources-web. Home. Site institutionnel & plateforme de contenu éditorial - Vin & Société - Agence web paris, design et developpement application web. Le relais de tout ce qui se dit sur le vin en France Vin & Société, représente la filière viti-vinicole française et se positionne comme l'interlocuteur privilégié du public sur les sujets de société liés au vin pour la santé, la prévention, le social, l'économie, l'art de vivre...
Pour mener à bien cette mission d'interlocuteur privilégié, Vin & Société avait besoin d'un site corporate proposant d'ouvrir une fenêtre sur le monde, un magazine web qui permet de croiser les points de vue, de s'aérer l'esprit, et de partager une même passion : le vin. Tout le monde doit pouvoir venir se documenter et trouver les informations qu'il recherche sur le vin. Une plateforme d'agrégation de contenus et de débats sur la place du vin dans la société française. Une plateforme d'agrégation de contenus et de débats. Unit9. Information Is Beautiful | Ideas, issues, knowledge, data - visualized!
---