Rite de suspension
Body Modification Ezine - The Biggest and Best Tattoo, Piercing and Body Modification Site Since 1994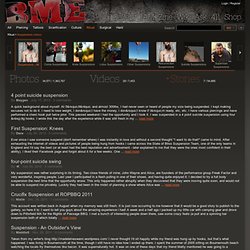 4 point suicide suspension By Maygen · July 17, 2013 · 2 comments A quick background about myself: At 5'8" and almost 300lbs, I had never seen or heard of people my size being suspended. I kept making excuses not to do it.
FAQ
Coming April 18th-20th, 2014 The Dallas Suspension Convention For more information on the event please click the link above. Site Information
Suspension.org
HACKING THE FUTURE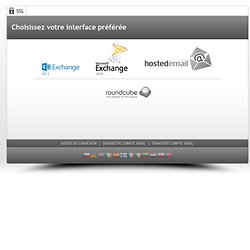 Created at the dawn of the twenty first century by Lukas Zpira under the impulse of Ryoichi Maeda, the term body hacktivism was born from the necessity to define a movement of artists, reaserchers and thinkers working around mutations and using body modifications as a medium. These artists, as oppposed to modern primitives who use tribal anthropology as their basis, practice, theorize and/or invent prospective avant-garde body modifications which are influenced by manga culture, comics, science fiction films and literature. Made possible by a constant enquisitiveness regarding the evolution of tekno-medical discoveries these practices, experimental by essence, are defined as Body Hacking, and expresses the will of these artists, researchers and/or thinkers to surpass the bio-logical frontiers.
Origine : L'origine de la suspension ou performance nous vient du rituel indien O-Kee-Pa, un rite de passage Mandan. Avant de passer à l'âge adulte, les jeunes hommes passaient quatre jours et quatre nuits sans manger ni boire. Ensuite, ils étaient suspendus au plafond d'une hutte, des crânes de bison attachés aux pieds. Si il résistait à cette epreuve, il devait ensuite se couper l'auriculaire, pour finalement être attaché à un piquet et tourner sans arrêt jusqu'à épuisement (au bout d'une corde, comme un cheval qu'on dresse). Si il passait l'épreuve, il devenait un homme et un guerrier.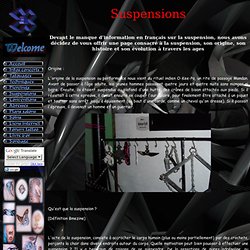 rite de suspension