Psychology today
Networking 101 for Introverts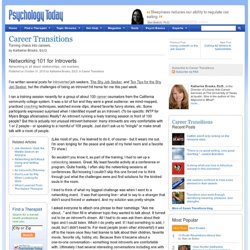 I've written several posts for introverted job seekers, The Shy Job Seeker , and Ten Tips for the Shy Job Seeker , but the challenges of being an introvert hit home for me this past week. I ran a training session recently for a group of about 100 career counselors from the California community college system. It was a lot of fun and they were a great audience: we mind-mapped, practiced coaching techniques, watched movie clips, shared favorite funny stories, etc. Some participants expressed surprised when I identified myself as an Introvert.
Have you ever chosen a product simply because of its packaging? Of course you have. We all have.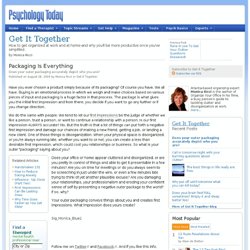 Packaging Is Everything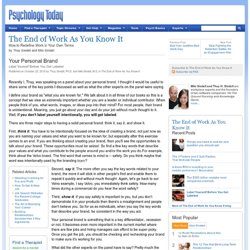 Your Personal Brand
Recently I, Thuy, was speaking on a panel about your personal brand. I thought it would be useful to share some of the key points I discussed as well as what the other experts on the panel were saying. I define your brand as "what you are known for." We talk about it in all three of our books so this is a concept that we view as extremely important whether you are a leader or individual contributor. When people think of you, what words, images, or ideas pop into their mind? For most people, their brand is unintentional.
Introductions and Networking
"Hi! My name is Glenn," I say, as I hold out my hand waiting for the ubiquitous handshake. I smile, hoping my nervousness isn't too obvious. Introductions are a challenging part of life. Many people get nervous upon meeting new people for the first time.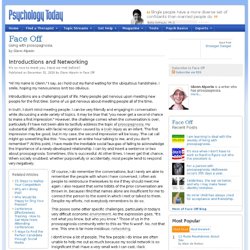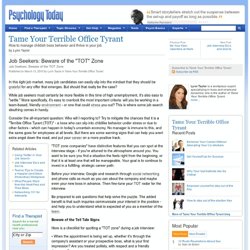 In this tight job market, many job candidates can easily slip into the mindset that they should be grateful for any offer that emerges. But should that really be the case? While job seekers must certainly be more flexible in this time of high unemployment, it's also easy to "settle." More specifically, it's easy to overlook the most important criteria: will you be working in a team-based, friendly environment - or one that could stress you out?
Job Seekers: Beware of the "TOT" Zone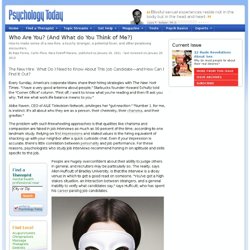 The New Hire: What Do I Need to Know About This Job Candidate—and How Can I Find It Out? Every Sunday, America's corporate titans share their hiring strategies with . "I have a very good antenna about people," Starbucks founder Howard Schultz told the "Corner Office" column. "First off, I want to know what you're reading and then I'll ask you why. Tell me what work-life balance means to you." Abbe Raven, CEO of A&E Television Network, privileges her "gut reaction."
Successful women know only too well that in any male-dominated profession, we often find ourselves at a distinct disadvantage. We are routinely underestimated, underutilized, and even underpaid. Studies show that women need to perform at extraordinarily high levels, just to appear moderately competent compared to our male coworkers. But in my experience, smart and talented women rarely realize that one of the toughest hurdles they'll have to overcome to be successful lies . We judge our own abilities not only more harshly, but fundamentally , than men do.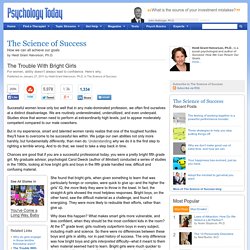 Brain Study Reveals Secrets of Staying Madly in Love
Is it even possible to feel madly in love with someone after five, ten, twenty years together? Due to recent neurological research, we are a bit closer to answering these perplexing questions and demystifying the secrets behind achieving intense, lasting, romantic love . A recent study published online in the journal , investigated, for the first time, which brain regions are associated with long-term romantic love. Researchers compared the brain scans of long-term married individuals to the scans of individuals who have recently fallen in love. Surprisingly, the results revealed similar activity in specific brain regions for both long-term, intense romantic love and couples in early-stage romantic love.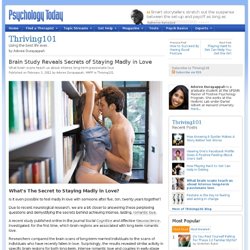 Why Chinese Mothers Really Are Superior (On Average)
The firestorm erupted two Saturdays ago, when Amy Chua's essay "Why Chinese Mothers Are Superior" appeared in the Chua noted she is often asked how Asian parents raise such successful children. "I know," she wrote, "because I've done it." Chinese parenting, at least as she embodies it, includes obedience, hours of music practice, and sometimes harsh feedback to her two daughters.
Hold Me Tight
I grew up in my parents' pub in England, where there was always a lot of drama. And all the drama—fights, flirting , tears, tantrums—revolved around love. I also watched my parents destroy their own love for each other. Since that time I've been on a mission to figure out exactly what love is.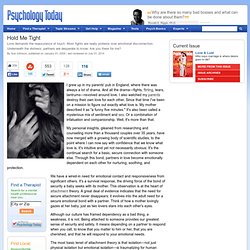 You've heard of freewriting, certainly. At its most basic, it's about forcing your internal editor to stay away while you splash your most raw and unusual thoughts onto the page. In Accidental Genius: Using Writing to Generate Your Best Ideas, Insights, and Content (2nd edition, revised & updated), Mark Levy tells how he uses freewriting, not only to loosen up his writing muscles, but to solve business problems of all kinds. Levy, author, writing teacher, and marketing strategist, shares a few "secrets" for making freewriting an indispensible tool: 5 Freewriting Tips 1.
The unexpected jokes are always the funniest. Like remember when Bob the Builder accidentally swore on camera? Or when the Clippers won a game? Who better to take advantage of this effect (i.e., the unexpected-comedic-communication-is-highly-humorous effect) than academic psychologists? In the thousands upon thousands of opportunities to publish funny psychology articles over the last 100 years, I found almost five!
5 Funniest Psychology Articles Ever
After ten years as a psychologist practicing psychodynamic psychotherapy , I reclined on the couch of my own analyst feeling burdened by my chosen work. After a day of seeing patients, I was drained. I had been trained to listen at many levels—words, emotions, unconscious disclosures—and I took all of that in and sorted it out in my mind. I was good at helping others discover and pursue what they wanted out of life. But at day's end I had no resources left to do it for myself.
I am 28 now. I don't think about the past or regret things much these days. But sometimes I wish that I had known some of things I have learned over the last few years a bit earlier. That perhaps there had been a self-improvement class in school. And in some ways there probably was. Because some of these 16 things in this article a teacher probably spoke about in class.
Why We Procrastinate
There are many ways to avoid success in life, but the most sure-fire just might be procrastination . Procrastinators sabotage themselves. They put obstacles in their own path. They actually choose paths that hurt their performance. Why would people do that? I talked to two of the world's leading experts on procrastination: Joseph Ferrari, Ph.D., associate professor of psychology at De Paul University in Chicago, and Timothy Pychyl, Ph.D., associate professor of psychology at Carleton University in Ottawa, Canada.
Real-Life Role-Playing
Body Language of the Hands
When you communicate – are you memorable?
When You Don't Like Yourself
The Key to Understanding Body Language
Seeing Life Through Introvert Eyes
The Thick Skinned
Are We Born Shy?
Is the Universe Conscious?
Beautiful People Really ARE More Intelligent
Gifted Kids, Harsh Truths
Ten Psychology Studies from 2010 Worth Knowing About
Pretty Women Make Simple Men
Why atheism can't replace religion
How Schools Can Stop Bullying
Why Apologies Are Important
A Route Towards Helping Your Child Attain Better Grades.