Tale of Ice and Fire
events
A Game of Thrones - A Song of Ice and Fire by George R R Martin
COVER REVEAL! George R.R. Martin and Gardner Dozois have put together a towering anthology of specially-commissioned stories from the most stellar names in the genre, set in a number of readers' favourite fantasy worlds. http://smarturl.it/...dangerouswomen George R.R. Martin's novella, entitled 'The Princess and the Queen', will reveal the origins of the Targaryen Civil War, otherwise known as 'The Dance of the Dragons', a war that split a then-fledgling Westeros in two, pitting Targaryen against Targaryen and dragon against dragon. The Dangerous Women anthology also contains contributions from the following worldwide bestselling authors: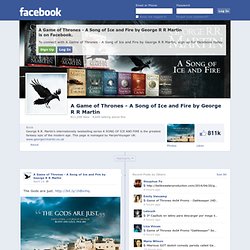 A Song of Ice and Fire - A Song of Ice and Fire Wiki
A Song of Ice and Fire is a series of epic fantasy novels written by American novelist and screenwriter George R.R. Martin. He began writing the series in 1991 and the first volume was published in 1996. Originally envisaged as a trilogy, there are now five published novels in the series with two more planned.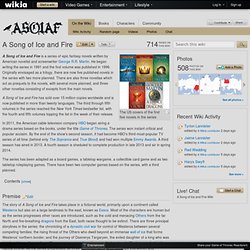 Westeros Pack Charity Auction FEB 19th – 26th February 17, 2014 Help the Wild Spirit Wolf Sancturay build a new home for THE WESTEROS PACK, a pack of ten rescued Arctic hybrid Wolves named after characters in A Song of Ice and Fire series. Help them out and get your hands … Read More