Surveys & Statistics
Religion in American Culture -- Pew Forum on Religion & Public Life
PRINCETON, NJ -- About 9 out of 10 Republicans are non-Hispanic whites, and more than half of these are highly religious.
Republicans Remain Disproportionately White and Religious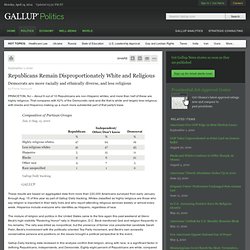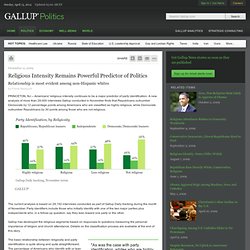 PRINCETON, NJ -- Americans' religious intensity continues to be a major predictor of party identification.
Religious Intensity Remains Powerful Predictor of Politics
Next,we'd like to ask about your views on two different explanations for the origin and development of life on earth. Do you think -- [ITEMS ROTATED] -- is -- [ROTATED: definitely true, probably true, probably false, (or) definitely false]?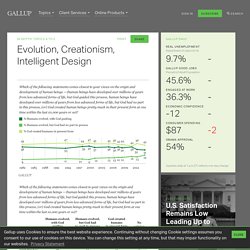 Evolution, Creationism, Intelligent Design
One-Third of Americans Believe the Bible is Literally True
PRINCETON, NJ -- About one-third of the American adult population believes the Bible is the actual word of God and is to be taken literally word for word.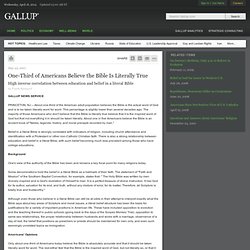 Campbell and Putnam: Charity's Religious Edge
An in-depth look at USA's religious beliefs, practices | USATODAY.com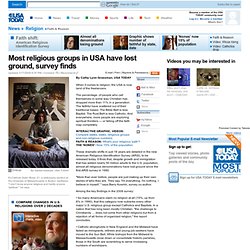 By Cathy Lynn Grossman, USA TODAY When it comes to religion, the USA is now land of the freelancers. The percentage. of people who call themselves in some way Christian has dropped more than 11% in a generation. The faithful have scattered out of their traditional bases: The Bible Belt is less Baptist. The Rust Belt is less Catholic. And everywhere, more people are exploring spiritual frontiers — or falling off the faith map completely.
Most religious groups in USA have lost ground, survey finds
'Nones' now 15% of population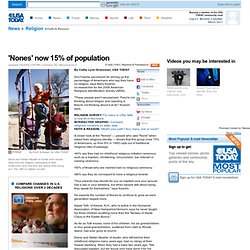 By Cathy Lynn Grossman, USA TODAY Don't blame secularism for driving up the percentage of Americans who say they have no religion, says Barry Kosmin, co-researcher for the 2008 American Religious Identification Survey (ARIS). "These people aren't secularized. They're not thinking about religion and rejecting it; they're not thinking about it at all," Kosmin says. A closer look at the "Nones" — people who said "None" when asked their religious identity — shows that this group (now 15% of Americans, up from 8% in 1990) opts out of traditional religious rites of passage: •40% say they had no childhood religious initiation ceremony such as a baptism, christening, circumcision, bar mitzvah or naming ceremony.