WEB 2.0 Tools
Best of the Web 2012. 20 Little-Known Web Resources For Teachers. 3 Tech Tips Your Grandma Could Teach You 2.08K Views 0 Likes Those who have been using technology, in some form, have a few tech tips you should know about.
For example, your grandma could be of service. My 10 Favorite Learnist Boards Of The Year. Google for Educators - Resources for using Google in school. I am a huge proponent and user of Google tools, both for myself and in my classroom.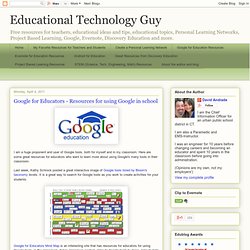 Here are some great resources for educators who want to learn more about using Google's many tools in their classroom. Last week, Kathy Schrock posted a great interactive image of Google tools listed by Bloom's taxonomy levels. QR Codes Connect Art on the Wall With Music on Your iPhone. Portuguese artist Nuno Serrão wants to make art viewing more stimulating by incorporating music through an iPhone app and QR codes.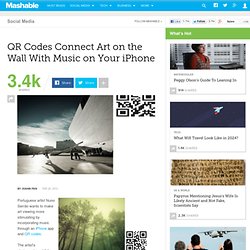 The artist's photography exhibit called Project Paperclip is currently housed at the Centro das Artes in Madeira Island, Portugal. People can walk in and do something usually discouraged at galleries — wear headphones and listen to music while taking in the images. "It can carry you to a different interpretation of that moment in the frame," Serrão, who has a background in programming, design and music, told Mashable.
"All the pictures are inspired by science, curiosity and imagination. " People can experience it by downloading the free Project Paperclip app. How would I prepare to teach a BYOD class? I've been thinking and reading about what it would be like to teach a (math) class in a school with a Bring Your Own Device policy.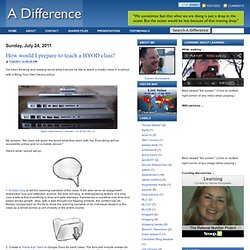 My answer: "My class will teach the world what they learn with me. Everything will be accessible online and on a mobile device. " Google Apps K-12 Lesson Plan Selector. Last month I posted a neat interactive chart made by Kathy Schrock that matches Google tools to the levels of Bloom's Revised Taxonomy.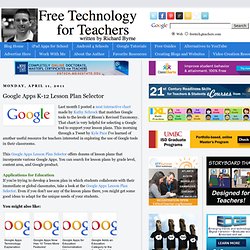 That chart is very helpful for selecting a Google tool to support your lesson plans. This morning through a Tweet by Kyle Pace I've learned of another useful resource for teachers interested in exploring the use of Google tools in their classrooms. This Google Apps Lesson Plan Selector offers dozens of lesson plans that incorporate various Google Apps. You can search for lesson plans by grade level, content area, and Google product. Applications for Education If you're trying to develop a lesson plan in which students collaborate with their immediate or global classmates, take a look at the Google Apps Lesson Plan Selector. Online Resources. Five Best Practices for the Flipped Classroom. Ok, I'll be honest.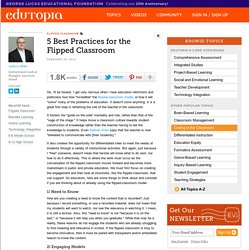 I get very nervous when I hear education reformists and politicians tout how "incredible" the flipped classroom model, or how it will "solve" many of the problems of education. It doesn't solve anything. It is a great first step in reframing the role of the teacher in the classroom. It fosters the "guide on the side" mentality and role, rather than that of the "sage of the stage. " The Awesome Highlighter is Awesome. The Awesome Highlighter is an easy-to-use tool for highlighting, clipping, saving, and sharing interesting things you find on the web.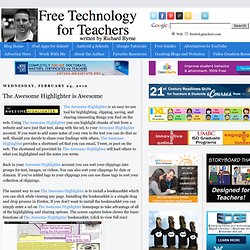 Using The Awesome Highlighter you can highlight chunks of text from a website and save just that text, along with the url, to your Awesome Highlighter account. If you want to add some notes of your own to the text you can do that as well. Evernote as Portfolio | The story of using Evernote as a portfolio in my k-12 school.
Read Cube - A Desktop Tool for Organizing Research. Read Cube is a desktop application, for Windows and Mac, that is designed to help students organize their research.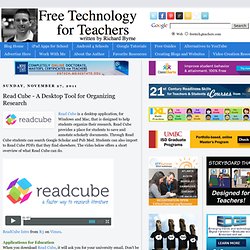 Read Cube provides a place for students to save and annotate scholarly documents. Through Read Cube students can search Google Scholar and Pub Med. Students can also import to Read Cube PDFs that they find elsewhere. The video below offers a short overview of what Read Cube can do. iPads in the Classroom. Technology Tools for Teachers. Web 20.11 - Web 2.0 for 2011 - resources, tips, ideas from Discovery Education.
Web 20.11 is Discovery Education's FREE Web 2.0 for 2011 resource page.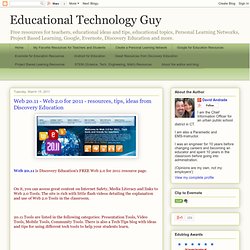 On it, you can access great content on Internet Safety, Media Literacy and links to Web 2.0 Tools. The site is rich with little flash videos detailing the explanation and use of Web 2.0 Tools in the classroom. 20.11 Tools are listed in the following categories: Presentation Tools, Video Tools, Mobile Tools, Community Tools. There is also a Tech Tips blog with ideas and tips for using different tech tools to help your students learn. This is a great resource for new teachers and veterans to learn about Web 2.0 tools.
Whiteboards websites. 10 Tech Skills Every Student Should Have. Earlier this month, I wrote "10 Important Skills Students Need for the Future.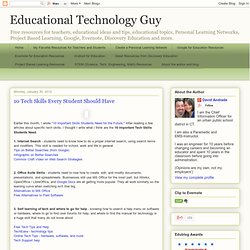 " After reading a few articles about specific tech skills, I thought I write what I think are the 10 Important Tech Skills Students Need. 1. Top 5 Apps for Administrators to learn and use. Top 5 Apps for Administrators I am not an administrator (yet) but in my past life I was a project engineer and I really wish I had some of these tools back then (ok, we had email). I do help the administration and work on many projects at school and these 5 apps have helped me. Scribblar - Free Interactive Online Whiteboard.
Join.me – Free Screen Sharing and Online Meetings. Techchicktips.wikispaces. Ever see those little square codes in magazines and newspapers? In store circulars? At movie theaters? Those are QR codes and guess what? You can use them in teaching! Teaching with Google Plus - tips and resources. Google Plus is a great resource for education. Edutopia, a great resource in itself, has a great article "Teaching with Google Plus.
" The article goes over some of the features of Google Plus, and how to use Google Plus in the classroom. The Circles can be used for groups or classes, Hangouts can be used for online study groups, and so much more. I highly recommend the article, and Google Plus, for educators. Related: Widescreen (Standard Def) Single Player. Digital Literacy.
- 50 Sites in 60 Minutes, Volume Three. 0 Comments February 10, 2012 By: David Kapuler Feb 10 Written by: 2/10/2012 3:48 AM. Google. Unshelved by Gene Ambaum and Bill Barnes. Instructional and Educational Videos, Animated Explanations, - Explania. The Difference Between Digital Literacy and Digital Fluency | SociaLens Blog.
Update 6/13/2012: We finally finished our book on this topic. It is available in print here, and in Kindle format here. You can also download a sample chapter here: here (601k PDF) Literacy and fluency* have to do with our ability to use a technology to achieve a desired outcome in a situation using the technologies that are available to us. This applies to our ability to use a hammer, nails and wood to build the house that we intend to build: Video Slideshow Maker with Music. Shareable sticky notes web-app. QR Codes. Autnes. QR Codes - PLSD Webinar. Twurdy Search - Search for Readable Results.
Simplebooklet.com. Online Stickies - lino. eBook Educators Group - where educators go to learn from one another. Cybraryman Catalogue of Educational WebSites - Educational Web sites for Teachers, Educators, Parents, Students. Home | JOG THE WEB. Internet Catalogue. How to Integrate Web 2.0 Tools into the Classroom. The Ultimate Twitter Guidebook For Teachers. Productivity Tools for Educators. Home. 30+ Mind Mapping Tools.
WEB 2.0 FOR SECONDARY TEACHERS. 6 Free Sites for Creating Your Own Comics. Web 2.0 Tools for Schools. Paper Rater: Free Online Grammar Checker, Proofreader, and More. Digital Storytelling Tools. Beautiful web-based timeline software.
---