How to Use a Microscope
Introduction to the Compound Microscope. UD Virtual Compound Microscope. C-MORE | Events. The ocean contains a universe of small wonders, an interconnected web of life.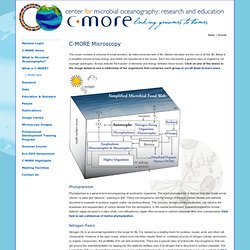 Marine microbes are the root of all this life. Below is a simplifed version of how energy and matter are transferred in the ocean. Each box represents a general class of organisms, for example autotrophs. Arrows indicate the transfer of elements and energy between these boxes. Hawai'i Institute of Marine Biology | Welcome. The Hawai'i Institute of Marine Biology is a world-renowned marine research institute of the School of Ocean & Earth Science & Technology at the University of Hawai'i at Manoa.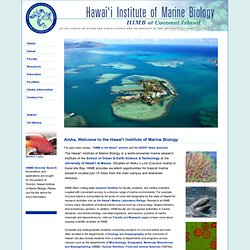 Situated on Moku o Lo'e (Coconut Island) in Kane'ohe Bay, HIMB provides excellent opportunities for tropical marine research located just 15 miles from the main campus and downtown Honolulu. HIMB offers cutting edge research facilities for faculty, students, and visiting scientists coupled with convenient access to a diverse range of marine environments. For example, Coconut Island is surrounded by 64 acres of coral reef designated by the state of Hawai'i for research activities only as the Hawai'i Marine Laboratory Refuge.
Micro*scope - version 6.0 - March, 2006.
---