Things
6a0120a5c8d9a9970c0120a9530bdd970b-400wi (400×600) Img2.duitang.com/uploads/item/201202/11/20120211224300_2J4UF.jpg. DSC_0552.jpg (684×684) Rubix Coasters. Cake Stand shelf. m1hq5g5hXY1ro1zebo1_500.jpg (500×302) Cool gadgets for creative offices | Awwwards - StumbleUpon. Each designer or agency office should be filled with creative and innovative gadgets that surprise our clients and stimulate the imagination.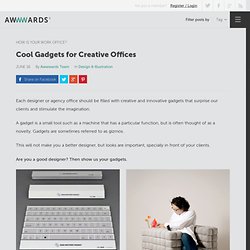 A gadget is a small tool such as a machine that has a particular function, but is often thought of as a novelty. Gadgets are sometimes referred to as gizmos. This will not make you a better designer, but looks are important, specially in front of your clients. Are you a good designer? Dedo-message-board-2.jpg (464×619) Bamboo Dry Erase Board. What's in my bag Feb/Mar 2010. Razer TRON Gaming Keyboard.
Color scanning pen. M19.jpg (640×480) Lightbulb usb. Domino usb. m0m0x5cVbn1ro1zebo1_500.gif (500×391) Zipper earphones. Designer Ji Woong creates an interesting earphone concept that prevents inconvenient tangles that can also potentially damage the earphone itself.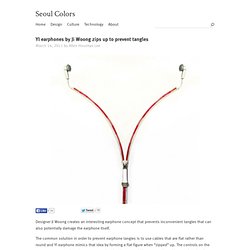 The common solution in order to prevent earphone tangles is to use cables that are flat rather than round and YI earphone mimics that idea by forming a flat figure when "zipped" up. The controls on the zipper is a nice touch and I can imagine that this design could be quite fashionable if marketed well. via Yanko. Cute card holding iPhone case, iPUP by KON.
If you've been looking for an all-in-one solution for a card case and an iPhone case, check out South Korean design agency KON's iPUP for iPhone 4 & 4S.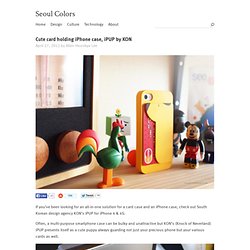 Often, a multi-purpose smartphone case can be bulky and unattractive but KON's (Knock of Neverland) iPUP presents itself as a cute puppy always guarding not just your precious phone but your various cards as well. You can adopt an iPUP in 5 different colors ($30) at KON Store. m3stx4Mbqo1ro1zebo1_500.jpg (500×313) m092urjvad1ro1zebo1_500.jpg (500×500) Tea-time – Tea Steeper Design by Pengtao Yu. Timely Steeping I am in love with the Tea-time tea steeper for its intuitive design and simplistic interaction between tea leaves, water and steeping time!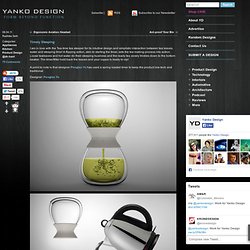 A flipping action, akin to starting the timer, sets the tea making process into action. Loose tealeaves and hot water do their steeping business and the ready tea slowly trickles down to the bottom beaker. The timer/filter hold back the leaves and your cuppa is ready to sip! A point to note is that designer Pengtao Yu has used a spring loaded timer to keep the product low-tech and traditional. Hanger chair. Wanted: The Most Minimal Chair in the World. The German furniture firm Vitra is usually known for high-end stuff you'd pass down through the generations.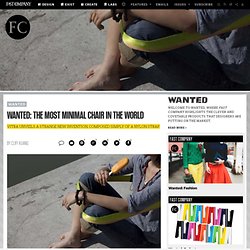 But they've gone into a completely different--and strange--direction with Chairless, a "seating device for the modern nomad. " Designed by Alejandro Aravena, it's simply a strap that you put around your knees and back. So that you can lean back, with maximum comfort. Apparently, Aravena was inspired by a similar strap he saw being used by an Ayoreo Indian. Naturally, a part of the proceeds will be used to support the Foundation for Paraguayan Indian Communities. Modern Middle East (Bedouin inspired) Unlike most of her peers on the hotshot contemporary design scene, Katrin Greiling doesn't live in Sweden or Denmark or the Netherlands.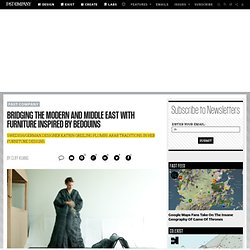 Sure, her works are sometimes bought by rich Middle Easterners. But she's not exporting Scandinavian style abroad. Magazine stool. Wine bottle hanger. WineCorkBoard. WineCorkMonogram. Light-up whiteboard. "book"shelf. Origami dresses. Hp-z1-workstation-cardboard-table-top-lattice.jpg (750×500) Hp-z1-workstation-cardboard-table-instructions.jpg (750×500) Watch Collection. Paper clock. Paper polaroid. MockingJay Pin.
---