Interior
Shelf Divider
Shelf Tree
Cardboard Shelf
window
better-view-blinds.jpg (605×746)
149041068887786993wCbW7kTHc.jpg (300×400)
tiny-house-jessica-helgerson-2.jpg (650×433)
BR_loc_Bradbury_1808.JPG (600×800)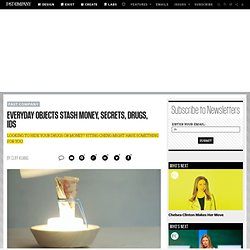 Yiting Cheng just finished up a master's degree in design, but she could already teach James Bond a thing or two about stashing valuables. For her thesis project, Cheng designed a series of eight objects that ingeniously store secrets--from passwords to money to drugs to IDs. And you can see all of them in this nicely shot video (our favorite is the secrete drawer, hidden in the edge of a table, which is only accessible when attach a magnetic pull):
Tetrabox lamp
kitchen
kitchen red
kitchen + lamp
blik donkey kong pong wall decals
lounge
BringingNatureHome_Prune
wall design
bedroom
unique-custom-table-series.jpg (468×573)
Oriental Warehouse Apartment Loft Conversion in San Francisco
We have already witnessed several different warehouse conversions in the past few months including one that was based in San Francisco , and now we take another trip to the Bay Area for this gorgeous Oriental Warehouse Loft. Designed by the design studio Edmonds + Lee Architects , this amazing property resides on San Francisco's South Beach neighborhood. The project takes on contemporary design elements, and revolves around open spaces making the home feel extremely spacious and inviting at the same time.
chicago2.png (400×266)
chalkboard,interior,design,bizarre,experimental-fe1165751d2b5b50d05f098153727fcc_h.jpg (320×213)
chalkboard,desk,interior,interior,design,vintage-989c2451b251f9dc40b41bd6f741df9e_h.jpg (260×320)
461988042_787d2d396f.jpg (320×256)
Hermes Workbench
Desk + chair
modern home office
Steampunk-Home-Decor2.jpg (550×314)