To What?
Encrypting Pictures Using Chaotic Cellular Automata
Welcome to The World of Holophonics™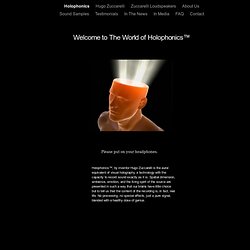 Holophonics™, by inventor Hugo Zuccarelli is the aural equivalent of visual holography, a technology with the capacity to record sound exactly as it is. Spatial dimension, ambience, emotion, and the living spirit of the source are presented in such a way that our brains have little choice but to tell us that the content of the recording is, in fact, real life. No processing, no special effects, just a pure signal, blended with a healthy dose of genius.
Sacred Geometry