Kids Crafts
Yarn Crafts for Kids : Ideas for Easy Arts & Crafts Projects & Activities with Yarn for Children, Teens, and Preschoolers. Home > Arts and Crafts Projects for Kids > Yarn Crafts for Children Yarn is a length of interlocked fibres which is mostly used for knitting, weaving, crocheting, embroidery and rope making.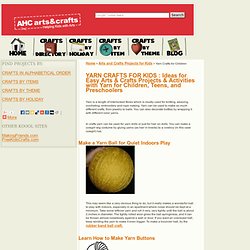 Yarn can be used to make so much different crafts, from jewelry to balls. Recycled Magazine Bows. These bows are so pretty everyone will think you bought them at the store.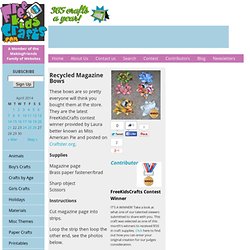 They are the latest FreeKidsCrafts contest winner provided by Laura better known as Miss American Pie and posted on Craftster.org. Supplies Magazine pageBrass paper fastener/brad Sharp objectScissors Instructions. Bubble Wrap Jelly Fish. Recycled materials make some of the most interesting crafts.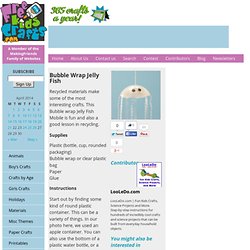 This Bubble wrap Jelly Fish Mobile is fun and also a good lesson in recycling. Supplies. Design-Your-Own Pinball Machine | Recycled Crafts - Recyclable Crafts for Kids - Recycling Craft Ideas. Make Magazine Bead Jewelry. Beads made from magazine pages?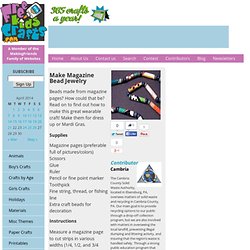 How could that be? Read on to find out how to make this great wearable craft! Recycled Magazine Wastebasket. Take all of those magazines and catalogues that fill up your mailbox and recycle them into this beautiful wastebasket.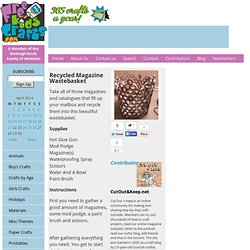 Supplies Hot Glue Gun Mod Podge Magazine(s) Waterproofing Spray Scissors Water And A Bowl Paint Brush Instructions First you need to gather a good amount of magazines, some mod podge, a paint brush and scissors. After gathering everything you need. Cardboard Tube Crafts. Recycled toilet paper tubes, paper towel tubes, wrapping paper tubes are all great starting points for lots of kids crafts.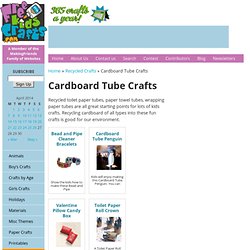 Recycling cardboard of all types into these fun crafts is good for our environment. Bead and Pipe Cleaner Bracelets Show the kids how to make these Bead and Pipe. Kids' Crafts: Yarn Octopus - Classic Rainy Day and Scout Activities. This photo originally appeared in FamilyFun Magazine Total Time 1 to 2 hours Ages preschooler This rainy-day project provides plenty of practice for budding braiders and makes a fun, eight-armed pal.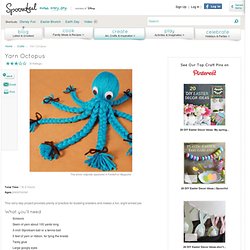 What you'll need.
---