Cities
TEDxBrisbane 2011 - Paul Songhurst - One square metre at a time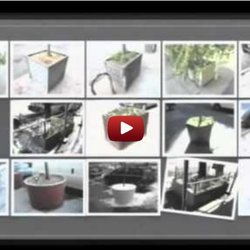 This video is currently unavailable. Sorry, this video is not available on this device. Video player is too small. Normal quality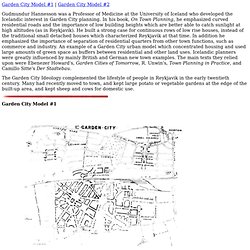 Garden City Model #1 | Garden City Model #2 Gudmundur Hannesson was a Professor of Medicine at the University of Iceland who developed the Icelandic interest in Garden City planning. In his book, On Town Planning, he emphasized curved residential roads and the importance of low building heights which are better able to catch sunlight at high altitudes (as in Reykjavik). He built a strong case for continuous rows of low rise houses, instead of the traditional small detached houses which characterized Reykjavik at that time. In addition he emphasized the importance of separation of residential quarters from other town functions, such as commerce and industry. An example of a Garden City urban model which concentrated housing and used large amounts of green space as buffers between residential and other land uses.
GardenCity1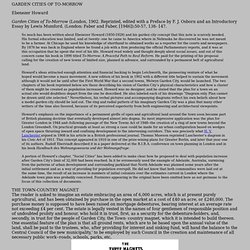 E. HOWARD, GARDEN CITIES OF TO-MORROW
GARDEN CITIES OF TO-MORROW Ebenezer Howard Garden Cities of To-Morrow (London, 1902. Reprinted, edited with a Preface by F. J. Osborn and an Introductory Essay by Lewis Mumford. (London: Faber and Faber, [1946]):50-57, 138- 147. So much has been written about Ebenezer Howard (1850-1928) and his garden city concept that this note is scarcely needed.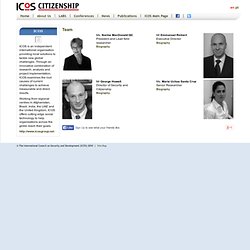 ICOS is an independent international organisation providing local solutions to tackle new global challenges. Through an innovative combination of research, analysis and project implementation, ICOS examines the root causes of current challenges to achieve measurable and direct results. Working from regional centres in Afghanistan, Brazil, India, the UAE and the United Kingdom, ICOS offers cutting edge social technology to help organisations across the globe reach their goals.
ICOS Citizenship - Team
DEMOGRAPHIA: Demographics Development Impacts Market Research & Urban Policy
9th Annual Demographia International Housing Affordability SurveyHOUSING AFFORDABILITY: KEY TO ECONOMIC AND SOCIAL SUSTAINABILITY 337 Markets: Australia . Canada . China (Hong Kong) . Ireland .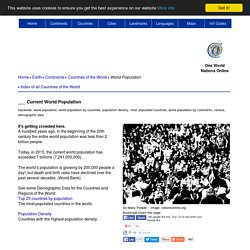 Population by Countries List of population figures for all countries. Global Village, Earth as a village of 100 people Have a look at the international community.
World Population by continents and countries
World Urbanization Prospects, the 2011 Revision
The shortlist of mayors for the 2012 World Mayor Prize have been announced. VOTE NOW FOR THE WINNER Introducing World Mayor The shortlist for the 2012 World Mayor Prize includes five mayors from North America, four from Latin America, seven from Europe, five from Asia, two from Australasia and two mayors from Africa. The City Mayors Foundation, the international think tank for local government, organises the World Mayor Project and awards the World Mayor Prize. The Prize, which has been given since 2004, honours mayors with the vision, passion and skills to make their cities incredible places to live in, work in and visit. The World Mayor Project aims to show what outstanding mayors can achieve and raise their profiles nationally and internationally.
World's fastest growing urban areas (1)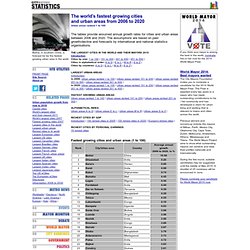 The 10 Fastest-Growing (and Fastest-Declining) Cities in the World - Derek Thompson
A new survey from the Brookings Institution ranks the world's 200 largest metropolitan economies -- which account for half of global GDP -- from 1-200. And the winners are ... Jordi AC/Flickr Shanghai is the fastest-growing city in the world, according to MetroMonitor, a quarterly analysis from the Brookings Institution that compares the 200 most prosperous metros by income and job growth. The victims of the euro zone crisis dominate the end of the list.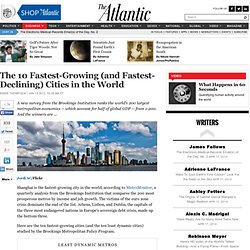 Maps » Gridded Population of the World (GPW), v3
Welcome to Brisbane City Council's PD Online, an online Planning and Development System containing the following services Check for Temporary Local Planning Instruments (TLPI)Property EnquiryApplication Tracking / Lodge a SubmissionInteractive MappingBrisbane Planning Scheme (City Plan) Enquiry Please Note: 1) On 8 May 2013, the Temporary Local Planning Instrument 01/13 Protection of Residential Buildings Constructed Prior to 1911 (TPLI 01/13) came into effect. The Temporary Local Planning Instrument provides for the assessment of the removal or demolition of any residential building constructed prior to 1911 which exists within the Demolition Control Precinct and Demolition Control Precinct (Local Character Significance), as well as those buildings indentified in Appendix A of TLPI 01/13.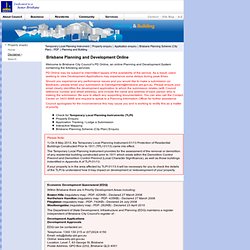 Planning and Development - Brisbane City Council
Domesday Book
Domesday Book (/ˈduːmzdeɪ/ or US /ˈdoʊmzdeɪ/; Latin: Liber de Wintonia)[1][2] is a manuscript that records the great survey of much of England and parts of Wales completed in 1086. The survey was executed for William I of England (William the Conqueror): "While spending the Christmas time of 1085 in Gloucester, William had deep speech with his counsellors and sent men all over England to each shire to find out what or how much each landholder had in land and livestock, and what it was worth" (Anglo-Saxon Chronicle). One of the main purposes of the survey was to determine who held what and what taxes had been liable under Edward the Confessor; the judgement of the Domesday assessors was final—whatever the book said about who held the material wealth or what it was worth was the law, and there was no appeal.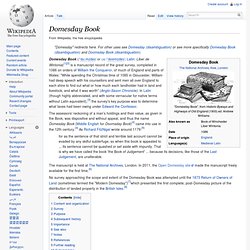 Featured Quote: Jennifer Robinson on Comparative Urban Studies
"The very fact that cities exist in a world of other cities means that any attempt at a general or theoretical statement about cities either depends upon or invites comparative reflection. What constitutes a city, how are cities organized, what happens in them, where are they going? — in a world of cities these and many other questions invoke a comparative gesture. The budding theorist finds herself asking of the many studies she reads from different parts of the world: are these processes the same in the city I know? Are they perhaps similar but for different reasons?
EURICUR (through Erasmus University) is the scientific partner of the European project CRII. The aim of this project is through an integrated approach, to help increase the attractiveness of European Cities by promoting the restoration or further development of their identity, their image and variety.
European Institute for Comparative Urban Research
European Institute for Comparative Urban Research
Projects » Projects overview Projects Empowering metropolitan regions through new forms of co-operation In the project 'Empowering Metropolitan Regions through New Forms of Cooperation' we analyse the development of cross-border and cross-sector partne.. read more... The Port Areas of Ghent and Zeeland Seaports: Stronger Together?
Undue Subdivision of Land Prevention Act 1885
The Undue Subdivision of Land Prevention Act 1885 was a law passed by the Parliament of Queensland in that year to prevent overcrowding and urban degradation in cities and towns in Queensland, especially in Brisbane. The law is a noteworthy example of early efforts by Australian legislators to control urban development and avoid the appearance of slums. While the Act made Brisbane and other Queensland cities a more attractive and less overcrowded place to live and raise families and allowed each household to grow a garden, it did have its disadvantages, the main one being that the resulting low population density made it more expensive to provide urban services such as sewerage, paving and street lighting. As a result, Brisbane was the last major city in Australia to be comprehensively sewered, and unpaved laneways were common in the inner city until the 1960s.
About Agenda News Education Galleries
Design and Politics / Galleries / Design and Politics / 2011–2012 / Berlage Institute
Affordable rental housing
Prof. Bill Hillier - Is London the Paradigm City or a one-off case? on Vimeo
Rhythm
urban scale | aitoa arkkitehtuuria
SOLUTIONS - Sustainability of Land Use and Transport in Outer Neighbourhoods
The 7 Fastest-Growing Cities in the World - An FP Photo Essay
Decision Theory for Planners #110 Why a City Scales like an Elephant « Decisions, Decisions, Decisions
Writings on Cities - Henri Lefebvre
High-Income World: Core Cities and Densification
arquitextos 044.02: Projetos urbanos: operando nas bordas (1) | vitruvius
Wide Urban World: What is a city? Definitions of the urban
quality of life world map
The 7 Fastest-Growing Cities in the World - An FP Photo Essay
Growth spurt puts Brisbane on top of the world
The Centre for Subtropical Design - Events
world cities by population
A flexible city of strangers
Fractals
Sense of place
Homogeneity and heterogeneity
Land Mosaics: The Ecology of Landscapes and Regions - Richard T. T. Forman
Invisible Cities
The city shaped: urban patterns and meanings through history - Spiro Kostof
Cities of refuge: the emergence of temporal urbanism
P.a.p.-Blog, Human Rights Etc. | Human rights from the perspective of politics, art, philosophy (hence p.a.p.), law, economics, statistics, psychology etc.
Why Monotonous Repetition is Unsatisfying, an article by Dr. Nikos Salingaros
"Public space is a physical expression of complexity" | The City Factory
Self-organization and the city - Juval Portugali
Topophilia and the Quality of Life: Discussion
The City is like a large House « The Architecture of Analogy
3D Map of London's Urban Complexity
In the Life of Cities...: Parallel Narratives of the Urban/LATIN AMERICA
Berlin: Symphony of a Great City [Act 2]
Berlin: Symphony of a Great City [Act 1, Part 1]
casablanca
Mindrelic - Manhattan in motion
Brisbane
Porto Alegre
List of largest cities in Brazil
List of cities proper by population density
- Global Cities Research Institute
Emergent Urbanism, or 'bottom-up planning'
An urban sustainability, green building, and alternative transportation community
Competitive Cities Conference » Housing . Urban Development . Communities » Brian Haratsis: Thinking big on population
Camillo Sitte
Mumbai
Becoming Seven Billion - Environment - Browse - Big Ideas - ABC TV
Lagos
List of cities by latitude
Cities as Solutions