Economics & Politics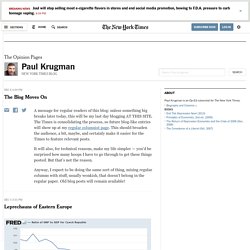 Joe Romm draws our attention to the third slice of the latest IPCC report on climate change, on the costs of mitigation; the panel finds that these costs aren't that big — a few percent of GDP even by the end of the century, which means only a trivial hit to the growth rate. At one level this shouldn't be considered news. It has been apparent for quite a while that given the right incentives we could maintain economic growth even while greatly reducing greenhouse gas emissions. But there is, in fact, some news that greatly strengthens the case that saving the planet would be quite cheap. First, a word about the general principle here. Actually, for once I get to play "balanced" journalist, and bash both left and right.
Noam Chomsky Introduction - JustSay Gnome!
Newsletters Daily News Brief daily_brief A roundup of global news developments by CFR.org editors, including analysis from CFR scholars. The World This Week world_this_week A concise summary of news and events from inside CFR and around the world. This Week on ForeignAffairs.com foreign_affairs Highlights from the print magazine and web-exclusive features, including roundtables, letters from abroad, and author postscripts.
Most recently posted material. Peterson Perspectives Interview Ukraine Stalemate: Is the Geneva Accord a Dead Letter? Anders Aslund — April 18, 2014 Anders Åslund says the deal reached by US Secretary of State John Kerry is unenforceable and that Vice President Biden should be prepared to announce new sanctions against Russia in Kiev next week. North Korea: Witness to Transformation Action Items from North Korea Freedom Coalition Kevin Stahler — April 18, 2014 The North Korea Freedom Coalition has sent out immediate action items calling for assistance in their effort to promote freedom and human rights in North Korea.