Mind Mapping and Data Visualization
Data visualization. Data visualization or data visualisation is the creation and study of the visual representation of data, meaning "information that has been abstracted in some schematic form, including attributes or variables for the units of information".[1] Overview[edit] According to Friedman (2008) the "main goal of data visualization is to communicate information clearly and effectively through graphical means.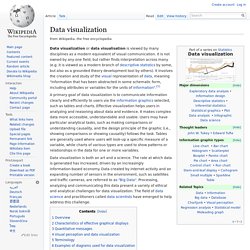 It doesn't mean that data visualization needs to look boring to be functional or extremely sophisticated to look beautiful. To convey ideas effectively, both aesthetic form and functionality need to go hand in hand, providing insights into a rather sparse and complex data set by communicating its key-aspects in a more intuitive way. Yet designers often fail to achieve a balance between form and function, creating gorgeous data visualizations which fail to serve their main purpose — to communicate information".[2] Welcome to Aviary. Visualizing.org. Crowdmap. Crowdmap allows you to set up your own deployment of the Ushahidi Platform without having to install it on your own web server.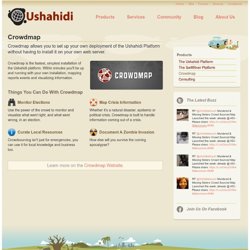 Crowdmap is the fastest, simplest installation of the Ushahidi platform. Within minutes you'll be up and running with your own installation, mapping reports events and visualizing information. Scribd. Geek to Live: Roll your own timeline. IMPURE | Home. Mind Mapping. Hand-drawn and computer-drawn variations of a mind map.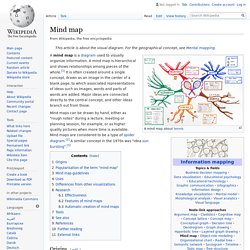 Mind maps can be drawn by hand, either as "rough notes" during a lecture or meeting, for example, or as higher quality pictures when more time is available. An example of a rough mind map is illustrated. Mind maps are considered to be a type of spider diagram.[2] A similar concept in the 1970s was "idea sun bursting".[3] Family Tree - Free Family Trees and Family History. Gramps. Mind Map Art. Death and Taxes. Mind42. Connected Mind. Dropmind. Knowledge Genes - The WHY Code. TheBrain. Biggerplate - the mind map library.
TagCrowd: make your own tag cloud from any text. FreeMind. Beautiful Word Clouds.
---