Journalism
Aggregates
Nuclear watchdog reveals harmful safety incidents. Störfälle in deutschen AKW: 4000-mal Alarm - SPIEGEL ONLINE - Nachrichten - Wirtschaft. Hamburg - In Japan explodieren zwei Kernkraftwerke, und in Deutschland wird die Kritik an der Atomtechnologie wieder laut.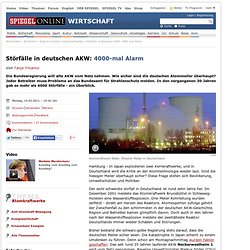 Sind die hiesigen Meiler überhaupt sicher? Diese Frage stellen sich Bevölkerung, Umweltschützer und Politiker. Nuclear power plant accidents: listed, visualised and ranked since 1952 | World news. Nuclear power plant accidents: Number three reactor of the Fukushima nuclear plant is seen burning after a blast following an earthquake and tsunami Photograph: Ho/DigitalGlobe How often do nuclear power plants go wrong?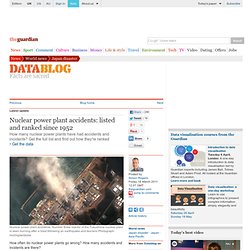 How many accidents and incidents are there? The explosions and nuclear fuel rods melting at Japan's Fukushima nuclear power plant, following the Sendai earthquake and tsunami last week, have caused fears of what will happen next. Today Japan's nuclear safety agency has raised the nuclear alert level for Japan from four to five - making it two levels lower than the Chernobyl disaster in 1986. So far, the Japanese authorities have maintained that there is "no cause to fear a major nuclear accident". Coding for Journalists 101 : A four-part series | Dan Nguyen pronounced fast is danwin.
Photo by Nico Cavallotto on Flickr Update, January 2012: Everything…yes, everything, is superseded by my free online book, The Bastards Book of Ruby, which is a much more complete walkthrough of basic programming principles with far more practical and up-to-date examples and projects than what you'll find here.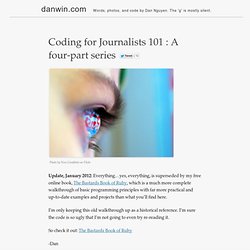 I'm only keeping this old walkthrough up as a historical reference. I'm sure the code is so ugly that I'm not going to even try re-reading it. So check it out: The Bastards Book of Ruby -Dan.
---