X-Men Movies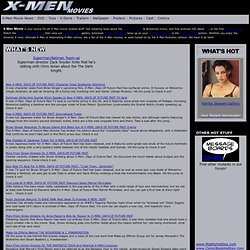 X-Men Movie News
Hugh Jackman Thinks The Late Heath Ledger Would Have Made A Good WOLVERINEThe Dark Knight's Heath Ledger would have turned 35 today, and as a fitting tribute, fellow Aussie Hugh Jackman revealed that he always thought the late Joker actor would have made a great "young Wolverine". Check out the video after the jump. Two More Character Posters For X-MEN: DAYS OF FUTURE PAST ReleasedThe past 24 hours have seen the release of ELEVEN new character posters for X-Men: Days of Future Past.
Edit Storyline In a world where both Mutants and Humans fear each other, Marie, better known as Rogue, runs away from home and hitches a ride with another mutant, known as Logan, a.k.a.
X-Men (2000) the Movie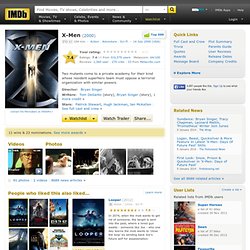 X-Men 2 (2003)
Edit Storyline Several months have passed since The X-Men defeated Magneto and imprisoned him in a seemingly impregnable plastic chamber. One day, a mutant by the name of Nightcrawler infiltrates the White House and attempts to assassinate the president, setting off a chain reaction of anti-mutant measures by the government. Meanwhile, Logan is trying to discover his past.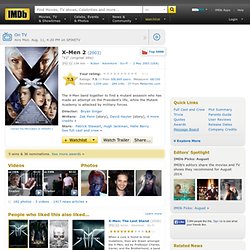 Goofs When Magneto reveals the tattoo of the identification number he received in the concentration camp it appears on the inside of his left arm. As a male concentration camp prisoner, he would have received the tattoo on the outside of his arm. Only female concentration camp prisoners were tattooed on the inner arm.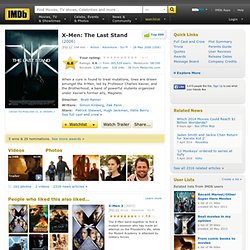 X-Men: The Last Stand (2006)
Edit Storyline Two mutant brothers, Logan and Victor, born 200 years ago, suffer childhood trauma and have only each other to depend on.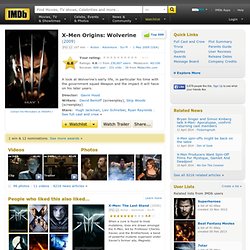 Edit Storyline Before Charles Xavier and Erik Lensherr took the names Professor X and Magneto, they were two young men discovering their powers for the first time. Before they were archenemies, they were closest of friends, working together, with other Mutants (some familiar, some new), to stop the greatest threat the world has ever known. In the process, a rift between them opened, which began the eternal war between Magneto's Brotherhood and Professor X's X-MEN.