Logic
Logic and Penguins. SCHOPENHAUER'S 38 STRATAGEMS, OR 38 WAYS TO WIN AN ARGUMENT. Arthur Schopenhauer (1788-1860), was a brilliant German philosopher.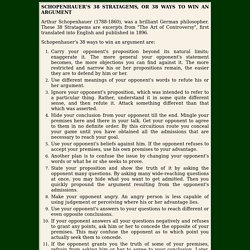 These 38 Stratagems are excerpts from "The Art of Controversy", first translated into English and published in 1896. Carry your opponent's proposition beyond its natural limits; exaggerate it. The more general your opponent's statement becomes, the more objections you can find against it. The more restricted and narrow his or her propositions remain, the easier they are to defend by him or her. MAIN - Ten Common Fallacies Everyone Should Know. When a statement is considered true because it's made by someone who is considered an "authority" on the topic.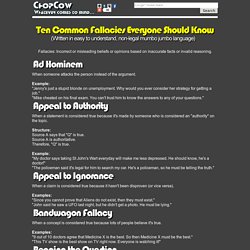 Structure: Source A says that "Q" is true. Source A is authoritative.
---