Design Resources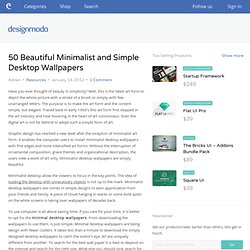 Have you ever thought of beauty in simplicity? Well, this is the latest art form to depict the whole picture with a stroke of a brush or simply with few unarranged letters. The purpose is to make the art form and the content simple, but elegant. Traced back in early 1960's this art form first stepped in the art industry and now hovering in the heart of art connoisseur. Even the digital art is not far behind to adopt such a simple form of art. Graphic design has reached a new level after the inception of minimalist art form.
50 Beautiful Minimalist and Simple Desktop Wallpapers
Futurico UI Pro is the world's biggest user interface elements pack. It contains more than 200 web design elements that can be used in any project no matter the style or the concept. The pack contains a set of elements added in one extraordinary collection and the good thing is that you can use them for any design or application. All the elements from this pack are editable and available in PSD (fully layered), hence they can be easily integrated in any concept or design. This archive provides 3 sets of elements in different colors and 2 examples of web design where they have been used.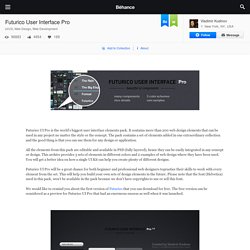 Futurico User Interface Pro on the Behance Network
Epic Freebie Friday Resources: FREE Poster & Flyer Design PSD Downloads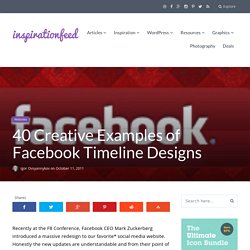 Recently at the F8 Conference, Facebook CEO Mark Zuckerberg introduced a massive redesign to our favorite* social media website. Honestly the new updates are understandable and from their point of view provide a better experience for the end user. From a personal point of view, each time they implement a change I get more confused, frustrated, and unwillingly forced to learn the new layout.
Creating a Professional Cartoon Effect from a Real Photograph - Photoshop Tutorial
Dark Knight Rises Poster in Photoshop
A couple of weeks ago I saw the new Dark Knight Rises poster and I love it. The concept was beautiful, using negative spaces to show the Batman symbol. As usual I started to think about ways to do that in Photoshop, then last Saturday I started looking for assets and trying to put together the first concept. After a couple of hours searching for images I found good ones and had a nice start. Today, Sunday, I woke up 6:30 in order to finish this piece and of course share with you my process.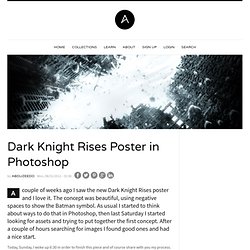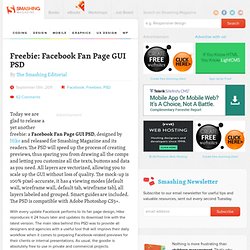 Advertisement Today we are glad to release a yet another freebie: a Facebook Fan Page GUI PSD, designed by Hike and released for Smashing Magazine and its readers. The PSD will speed up the process of creating previews, thus sparing you from drawing all the comps and letting you customize all the texts, buttons and data as you need.
Freebie: Facebook Fan Page GUI PSD - Smashing Magazine
Mobile Web Design | Best Mobile Websites | Mobile Website Development
The Book Cover Archive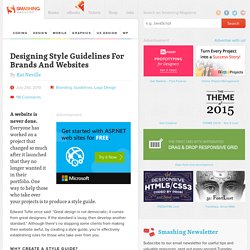 Advertisement A website is never done. Everyone has worked on a project that changed so much after it launched that they no longer wanted it in their portfolio. One way to help those who take over your projects is to produce a style guide. Edward Tufte once said: "Great design is not democratic; it comes from great designers. If the standard is lousy, then develop another standard."
Style Guide
A few weeks ago we published a post, Learn Photoshop, that included links to well over 100 resources for mastering the basics of Photoshop and the use of the various tools. In response to reader request, we're publishing this post to help designers who want to get started with Adobe Illustrator, or maybe just sharpen their existing skills. Illustrator is a powerful program, but it can be overwhelming or confusing at times, simply because of everything that is possible. If you're new to Illustrator, taking the time to understand the basics and how to use the specific tools will go a long way towards setting you up for success.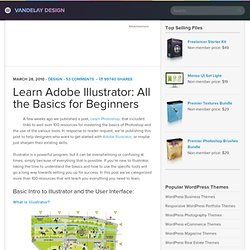 Oooppps.. 404 - страница молдавских веб гастарбайтеров
Subscribe by RSS or Email Poster Design Tutorials In Photoshop (35 really awesome tutorials) Posted In: Photoshop roundups, By WAD, 5 Comments advertisement
Poster Design Tutorials In Photoshop (35 really awesome tutorials)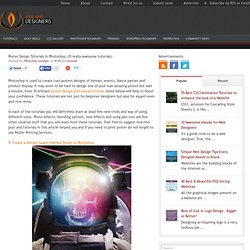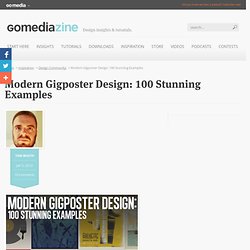 Modern Gigposter Design: 100 Stunning Examples
A short introduction This summer I released an eBook called, The Wall: Modern Day Music Posters. It contains some of the posters seen below, with 91 designers contributing some of the best posters of the last 3 to 4 years. But coming up with 100 of the greatest music posters was no easy task.
Typography is one of the favorite parts of design and today we have a very valuable collection of free ebooks about typography for every typography lover.If you want to improve yourself or learn something new the below ebooks will really help you. The Right Font for the Job Read The E-book The Typographer's Glossary Read The E-book Meet Your Type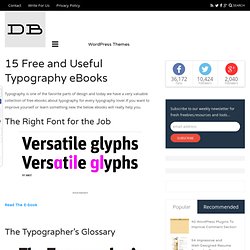 15 Free and Useful Typography eBooks
35+ Unbelievable Advertisement and Poster Tutorials