News
Kearney Hub -
Car Talk. Car tips, advice, and troubleshooting.
Lexington Airport Authority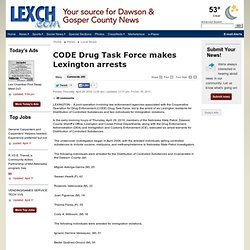 LEXINGTON - A joint operation involving law enforcement agencies associated with the Cooperative Operation for Drug Enforcement (CODE) Drug Task Force, led to the arrest of six Lexington residents for Distribution of Controlled Substances and two individuals for immigration violations. In the early morning hours of Thursday, April 29, 2010, members of the Nebraska State Patrol, Dawson County Sheriff's Office, Lexington and Cozad Police Departments, along with the Drug Enforcement Administration (DEA) and Immigration and Customs Enforcement (ICE), executed six arrest warrants for Distribution of Controlled Substances. The undercover investigation began in April 2008, with the arrested individuals selling controlled substances to include cocaine, marijuana, and methamphetamine to Nebraska State Patrol investigators.
Lexington Clipper-Herald > News > Local > CODE Drug Task Force m
Listen Live to NET Radio