Copyright and Fair Use
All About Creative Commons And Copyright
Copyright and Fair Use in Digital Media and Composition 06/09 by NWP radio
Taking the Mystery Out of Copyright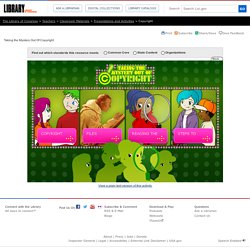 skip navigation Library of Congress Teachers Suggestions enabled. The Library of Congress > Teachers > Classroom Materials > Presentations and Activities > Copyright Print Subscribe Share/Save Give Feedback
copyright 101 session resources and materials
What Is the Digital Media Copyright Act?
Since that time, the DMCA has been implemented in many notable court cases and heavily criticized by society. It is essentially the law that made it illegal to download copyrighted digital media such as music, movies, and software, and is what the RIAA and MPAA have used to combat piracy in the courts. So exactly what is the Digital Media Copyright Act and what's all the commotion about? Well, the DMCA is still a heated topic today because of its use in the fight against online piracy and its effects on Internet users. This article serves to educate those on what is in the DMCA and how it affects the everyday Internet user.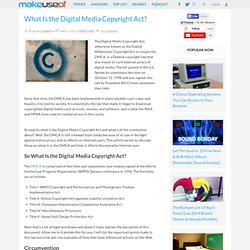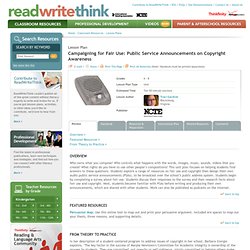 ReadWriteThink couldn't publish all of this great content without literacy experts to write and review for us. If you've got lessons plans, activities, or other ideas you'd like to contribute, we'd love to hear from you. More Find the latest in professional publications, learn new techniques and strategies, and find out how you can connect with other literacy professionals. More
Campaigning for Fair Use: Public Service Announcements on Copyri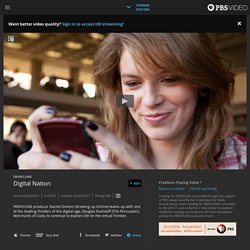 Digital Nation | FRONTLINE
Aired: 02/02/201001:26:10Expires: 02/02/2017 Rating: NR FRONTLINE producer Rachel Dretzin (Growing up Online) teams up with one of the leading thinkers of the digital age, Douglas Rushkoff (The Persuaders, Merchants of Cool), to continue to explore life on the virtual frontier. Digital Nation Is our 24/7 wired world causing us to lose as much as we've gained?
CodeofBestPracticesinFairUse
HallDavidson.net
Video Case Study, P.S. 124, Media Literacy, Copyright, and Fair Use
Evolution of Dance 2
10 Things I Hate About Commandments
Copyright Education User Rights, Section 107 Music Video
The Cost of Copyright Confusion for Media Literacy
Copyright, What's Copyright?