Policies
International Food & Agricultural Trade Policy Council
Agriculture and Food Security: Ideas for the Multilateral Trading System Beyond Bali IPC member Stefan Tangermann reflects on changes in the global food trading system since the Doha Development Agenda was launched at the WTO and highlights recommendations of an experts group to address recent challenges including export restrictions, biofuels, increasing financial support for food security purposes, and improving the functioning of the WTO. This is a presentation given by IPC President Ellen Terpstra based on Tangermann's slide presentation. The full report is to be released by ICTSD and IPC in the near future.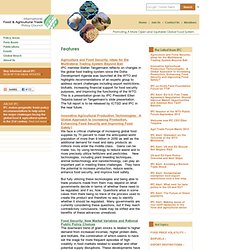 Food security has been a dominant element in recent debates on agricultural policy, not least the recent discussions on CAP reform. But what do we actually understand by food security? There are a number of standard definitions out there, but in fact various actors interpret the term for their own purposes. An important article in Food Policy by Jeroen Candel, Gerard Breeman, Sabina Stiller and Catrien Termeer, identifies six different interpretations or 'framings'. Not surprisingly, the productionist and environmental frames were dominant, accounting for nearly 70 per cent of uses.
Common Agricultural Policy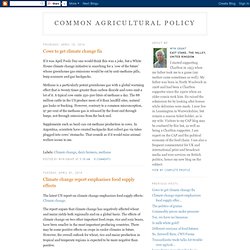 International Trade in Agricultural Products: A Research Guide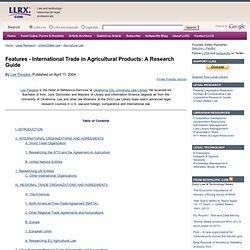 For more information see: United Nations Documentation: Research Guide, accessible at: http://www.un.org/Depts/dhl/resguide/ Jeanne Rehberg, United Nations: Lawmaking Activities and Documentation, in ACCIDENTAL TOURIST ON THE NEW FRONTIER: AN INTRODUCTORY GUIDE TO GLOBAL LEGAL RESEARCH 157-165 (Jeanne Rehberg and Radu D. Popa, eds., Littleton, CO: Rothman, 1998) 2. Tools for UN Research UNBIS Thesaurus is an online thesaurus containing terminology used in United Nations documents, accessible at: http://unhq-appspub-01.un.org/LIB/DHLUNBISThesaurus.nsf
Welcome | Vredeseilanden
FAPRI - Food and Agricultural Policy Research Institute
Agricultural trade policies in the ...