USA entrepreneurial programmes
South Korea plans to convert all textbooks to digital, swap backpacks for tablets by 2015. Well, that oversized Kindle didn't become the textbook killer Amazon hoped it would be, but at least one country is moving forward with plans to lighten the load on its future generation of Samsung execs.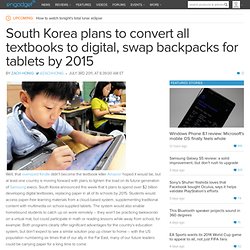 South Korea announced this week that it plans to spend over $2 billion developing digital textbooks, replacing paper in all of its schools by 2015. Students would access paper-free learning materials from a cloud-based system, supplementing traditional content with multimedia on school-supplied tablets. The system would also enable homebound students to catch up on work remotely -- they won't be practicing taekwondo on a virtual mat, but could participate in math or reading lessons while away from school, for example.
Y Combinator Is Boot Camp for Startups | Magazine. From left: Business boot campers Sandy Spicer (Moki.tv), Qasar Younis (TalkBin), John Egan (Sendoid), Jonathan Deutsch (Tumult), Aaron Harris (Tutorspree), Laura Valverde (Beetailer), and Wei Hsu: (Hyperink)Photo: Robyn Twomey The Y Combinator offices sit at the dead center of Silicon Valley, in Mountain View, on a street called Pioneer Way.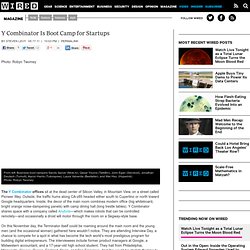 Outside, the traffic hums along CA-z85 headed either south to Cupertino or north toward Google headquarters. Startup Lessons Learned on Justin. Lean Blog — Mark Graban's leanblog.org, Lean Manufacturing, Lean Healthcare, Toyota Production System. Startup Lessons Learned 2011 streaming live. I have been getting emails and tweets all day from people upset that they cannot get into Startup Lessones Learned 2011 - either here in SF, where we're sold out, or in one of the more than 100 simulcast locations around the world, many of which are sold out, too.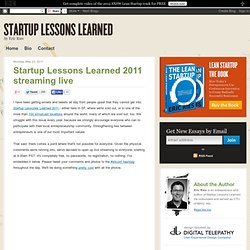 We struggle with this issue every year, because we strongly encourage everyone who can to participate with their local entrepreneurship community. Strengthening ties between entrepreneurs is one of our most important values. Three Little Words Every Leader Needs to Learn - Rosabeth Moss Kanter. By Rosabeth Moss Kanter | 12:14 PM May 7, 2009 There are three little words that extraordinary leaders know how to say, and I'm not thinking of "I love you" (but those are pretty good).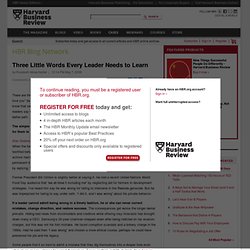 The magic words are "I was wrong." Husbands and wives know that saying those words to each other can be even more endearing than endearments. When leaders say them to their teams in a timely fashion, they build confidence and can move on to a better path. The simple sentence "I was wrong" is the hardest for leaders to utter and the most necessary for them to learn. Sheryl Sandberg & Male-Dominated Silicon Valley. In 2007, the founder of Facebook, Mark Zuckerberg, knew that he needed help.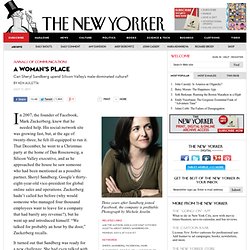 His social-network site was growing fast, but, at the age of twenty-three, he felt ill-equipped to run it. That December, he went to a Christmas party at the home of Dan Rosensweig, a Silicon Valley executive, and as he approached the house he saw someone who had been mentioned as a possible partner, Sheryl Sandberg, Google's thirty-eight-year-old vice-president for global online sales and operations. Zuckerberg hadn't called her before (why would someone who managed four thousand employees want to leave for a company that had barely any revenue?) , but he went up and introduced himself. VC Trend: Fielding and Offering Ideas for Startups and Apps.
Stone Soup - Philosophy. Silicon valley is a technology hub – could it ever be cloned? This past week, I've been in the heart of Silicon Valley: Palo Alto, California.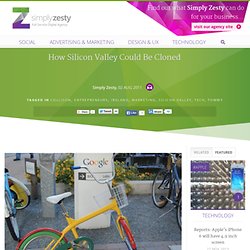 Within a half hour's train journey, you can be at the offices of Apple, Facebook and Google, as well as dozens of start-ups who might be the next internet giant. There are two main reasons, I think, that California is the place people go to if they're a tech start-up (nod to my older brothers, currently working on one The first is the great pool of talent present here, and the second is the huge amount of investment and mentoring available to that talent. The main difference I notice between Ireland and Silicon Valley: driven people. A new way to teach entrepreneurship. For the past three months, we've run an experiment in teaching entrepreneurship.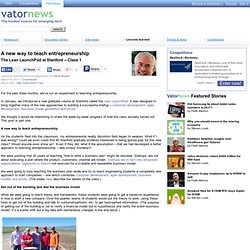 In January, we introduced a new graduate course at Stanford called the Lean LaunchPad. It was designed to bring together many of the new approaches to building a successful startup – customer development, agile development, business model generation and pivots. We thought it would be interesting to share the week-by-week progress of how the class actually turned out. This post is part one. A new way to teach entrepreneurship. Startup Ideas We'd Like to Fund. Startup Ideas We'd Like to Fund Paul Graham July 2008 When we read Y Combinator applications there are always ideas we're hoping to see.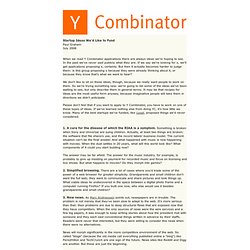 In the past we've never said publicly what they are. The Problem With Silicon Valley Is Itself - TNW Entrepreneur. As a Brit who gave up cheerleading the European tech scene to make the pilgrimage to Silicon Valley to live, eat and breath the world's leading hub for technology startup innovation, I've been largely unimpressed and disappointed by the quality of startups here.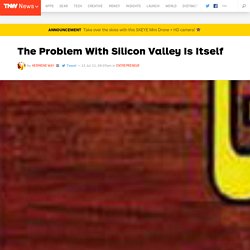 Living in San Francisco since January, I've interviewed around two hundred startups and there's only two, out of two hundred, I think are game changers. Now, don't get me wrong, Silicon Valley is an incredibly inspiring place to be. Everyone is doing something amazing and trying to change the world, but in reality much of the technology being built here is not changing the world at all, it's short-sighted and designed for scalability, big exits and big profits. Max Marmer. LEAKED: All Of Ron Conway's Investments Since 2005. Microsoft Buying Nokia's Phone Business For $19 Billion -- TWEET. Netflix CEO Reed Hastings Live at D9 – AllThingsD. Netflix has turned itself from a DVD rental company into a Web video subscription service, and consumers love it: Millions are signing up each quarter.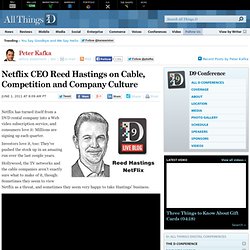 Investors love it, too: They've pushed the stock up in an amazing run over the last couple years. Hollywood, the TV networks and the cable companies aren't exactly sure what to make of it, though: Sometimes they seem to view Netflix as a threat, and sometimes they seem very happy to take Hastings' business. (Note: We're streaming this interview live; more details here.) 8:09 am: Good morning! News Corp. digital chief Jon Miller is welcoming the crowd, and thanking sponsors. In Silicon Valley, Buying Companies for Their Engineers. Thiel Fellowship. What Makes A Startup Successful? Blackbox Report Aims To Map The Startup Genome. Generally speaking, the odds are stacked heavily against the average startup. The rate of failure among entrepreneurs and startups is startlingly high — it comes with the territory. Otherwise, entrepreneurs wouldn't be pirates. But, what if there were a way to reduce that failure rate by cracking the formula of startup success?
No easy feat to map the double helix of startups, but entrepreneurs are risk-takers by nature, so four of these risk-loving international entrepreneurs came together to found the Startup Genome Report, a report that is part of a larger project that dives into the very anatomy of what makes Silicon Valley startups successful — or not. The entrepreneurs who founded the Startup Genome report (Bjoern Herrmann and Max Marmer), have also created a business accelerator called Blackbox, which will be leveraging the data they have collected (and will collect) from their ambitious R&D enterprise.
5 Major Differences Between TechStars and Y Combinator. Apple Nearly Worth More Than Microsoft, HP And Dell … Combined. If you look at how Apple fares on the public markets today, compared to other tech powerhouses, you'll notice that the Cupertino computer giant is currently valued at roughly $301 billion, which is close to the sum of the market cap of three of its closest rivals: Microsoft (~$200.3 billion), Hewlett-Packard (~$72.8 billion) and Dell (~$29.3 billion).
Market cap is of course just one metric – and arguably not even the best one – to make comparisons between companies. It is, nevertheless, a most excellent trend barometer and a simple way to compare valuations. To be frank, I'm not sure this is the first time Apple's equity value has come this close to the combined value of Microsoft, HP and Dell, but it's most definitely the first time I've noticed. And while we're at it … Lean LaunchPad: A Crash Course in Startup Success. A new class created by serial entrepreneur Steve Blank puts a focus on testing ideas before jumping in. Stanford University engineering student Lee Redden thought his team's robotic lawnmower had the makings of a successful business idea. Then he talked to potential customers. "All of them told us they would not buy this thing," Redden says. "They were really happy with the people doing lawn-mowing now, and it wasn't that expensive. " News from the New Orleans start-up world.
It was a week of exciting news for many local New Orleans entrepreneurs. Here is a roundup of the week's events: Dear New OrleansJennifer Schnidman Medbery, founder of Drop the Chalk 1) New Orleans-based Drop the Chalk CEO Jennifer Schidman Medbery was featured in Inc. Magazine as a top entrepreneur under 30 years old.
---