HTML5 & CSS3
The Power of HTML 5 and CSS 3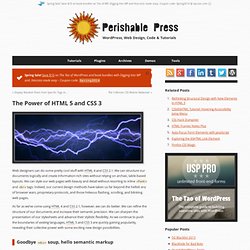 Web designers can do some pretty cool stuff with HTML 4 and CSS 2.1. We can structure our documents logically and create information-rich sites without relying on archaic, table-based layouts. We can style our web pages with beauty and detail without resorting to inline <font> and <br> tags.
Search is one of the most important part of any website.
Designing Search Boxes with HTML5 and CSS3 - Saddam Azad – User Experience Designer.