Wikis and Blogs
Tips and Tricks: Don't miss a trick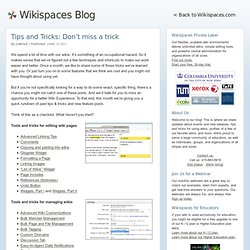 We spend a lot of time with our wikis. It's something of an occupational hazard. So it makes sense that we've figured out a few techniques and shortcuts to make our work easier and better.
Ask a Tech Teacher
This is the last in a series on classroom management through wikis. Here are links for wikis I've created for grades K-5. This one is Fifth Grade: Click here to visit my fifth grade class wiki You can organize a classroom with blogs , internet start pages (click for more on internet start pages ), wikis , even twitter (Click for more on twitter) . Wikis are the most thorough.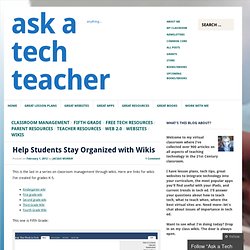 Five Steps to Starting a Class Blog in 2012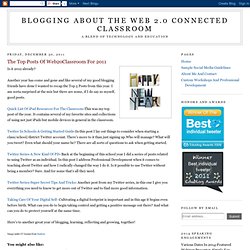 Is it 2012 already? Another year has come and gone and like several of my good blogging friends have done I wanted to recap the Top 5 Posts from this year. I am sorta surprised at the mix but there are some, if I do say so myself, good posts. Quick List Of iPad Resources For The Classroom -This was my top post of the year. It contains several of my favorite sites and collections of using not just iPads but mobile devices in general in the classroom. Twitter In Schools-A Getting Started Guide -In this post I lay out things to consider when starting a class/school/district Twitter account.
The Top Posts Of Web20Classroom For 2011
3 Tech Tips Your Grandma Could Teach You 2.14K Views 0 Likes Those who have been using technology, in some form, have a few tech tips you should know about. For example, your grandma could be of service. My 10 Favorite Learnist Boards Of The Year
40 New Education Blogs Recommended By Teachers
How Students Benefit From Using Social Media 12.65K Views 0 Likes A lot of criticism has been leveled at social media and the effect it has on the way students process and retain information, as well as how distracting it can be. However, social media offers plenty of opportunities for learning and interactivity, and if you take a moment to think about it, it's not too hard to see how students benefit from using social media. 3 Tech Tips Your Grandma Could Teach You