Lesson Ideas
When you're ready to share your remixed page, click the Publish button or press P on your keyboard. This makes your changes visible on the web for others to see. If you need help, make sure the X-Ray Goggles are activated, then press H on your keyboard. You can take X-Ray Goggles with you anywhere on the web: Make sure your web browser's bookmarks bar is enabled.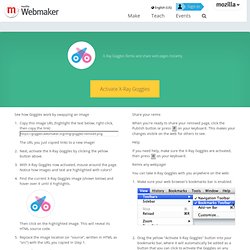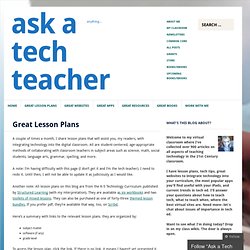 Lesson Plans
A couple of times a month, I share lesson plans that will assist you, my readers, with integrating technology into the digital classroom. All are student-centered, age-appropriate methods of collaborating with classroom teachers in subject areas such as science, math, social students, language arts, grammar, spelling, and more. A note: I'm having difficulty with this page (I don't get it and I'm the tech teacher). I need to redo it.
When your students ask the inevitable question, "When would I ever use this?" answer it with a micro-documentary from the largest STEM video library of its kind --- The Futures Channel. Teachers tell us >> "I like to motivate the students to learn math by showing applications for math and science in real life, and your videos are a valuable resource. You do a great job.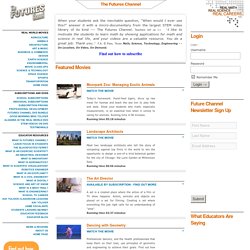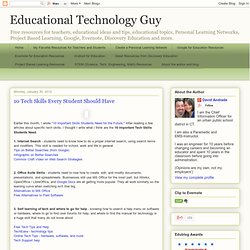 Earlier this month, I wrote "10 Important Skills Students Need for the Future." After reading a few articles about specific tech skills, I thought I write what I think are the 10 Important Tech Skills Students Need. 1. Internet Search - students need to know how to do a proper internet search, using search terms and modifiers.
I love mindmaps (concept maps), not only for my own use in preparing presentations or mapping out a problem in a PBL unit, but I love having students create their own, either as a before, during, or after learning activity. What I love the most about mindmaps for student use is that, to me, they are one of the best formative assessments to use in order to see what students really understand and exactly how they are understanding it. You can see beyond content acquired and peer right into what connections students are making between concepts, as well as seeing how their brains are working to organize information--a key skill that many students lack and isn't explicitly taught to most students. In other words, it helps students get beyond "I have to know this" and gets them to "I can think about this."
Mindmaps: Students Making Their Own Meaning
Whether you're in a photography class or not, photos are powerful. They can teach about an entire event in just the blink of an eye. 2011 was a year filled with powerful scenes and events that affected everyone. The following photos are from a curated list voted by the users of Buzzfeed.
Teachable Moments: The Most Powerful Photos of 2011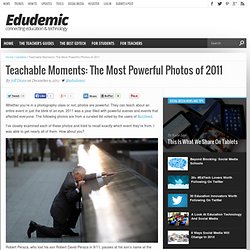 In honor of the recent TED Live announcement , I thought it'd be a good idea to remind you why TED rocks. Below is just a small fraction of the amazing presentations put on by the folks over at TED. Each one of the presentations embedded below is perfect for sharing with students and showing in class*. Heck, assigning the viewing of these TED talks as homework isn't a bad idea. Do you use TED in the classroom?
One of the hardest things to teach, in my opinion, is research. I have been teaching in a computer lab for going on five years and I have never taught research the same way twice. This is partially because I never teach anything the same way twice, but it's also because each year I learn something new.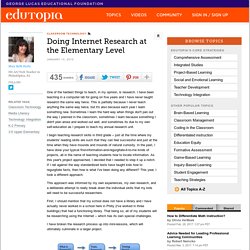 Updated 01/2014 As mobile learning becomes more and more prevalent, we must find effective ways to leverage mobile tools in the classroom. As always, the tool must fit the need.