Keeping up w/ change
CLOUDUCATION. Sometimes as I write about what I am teaching my students in the high school, it probably makes it seem as if that is a one-way street.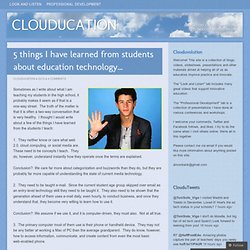 The truth of the matter is that it is often a two-way conversation that is very healthy. I thought I would write about a few of the things I have learned from the students I teach: The 10 Barriers to Technology Adoption. Computing technologies have profoundly transformed just about every major organization and field of human endeavor.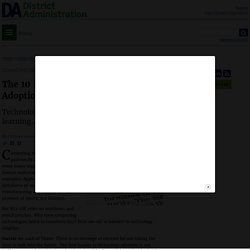 To take just two examples, Apple is the largest distributor of music in the world, and manufacturing and surgery are the province of robots, not humans. But K12 still relies on textbooks and pencil pouches. Why have computing technologies failed to transform K12? Educational Technology Bill of Rights for Students. How will the shift to digital learning happen?
I visited Wireless Generation last week and received so many great questions, I've been answering a few a week including this post and this one.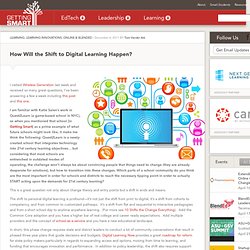 I am familiar with Katie Salen's work in Quest2Learn (a game-based school in NYC), so when you mentioned that school [in Getting Smart] as a prime example of what future schools might look like, it make me think the following: Quest2Learn is a newly-created school that integrates technology into 21st century learning objectives… but considering that most schools are entrenched in outdated modes of operating, the challenge won't always be about convincing people that things need to change (they are already desperate for solutions), but how to transition into these changes.
Which parts of a school community do you think are the most important in order for schools and districts to reach the necessary tipping point in order to actually START acting upon the demands for 21st century learning? 40 Incredible Blogs That Are Changing Education. Does A College Degree Actually Help In A Recession?
3.09K Views 0 Likes Your parents always encouraged you to do well in school, so that you could go to a good college.
---