Business Architecture
I have written a number of Enterprise Architectures for businesses. Here is a collection of useful sites and topics I have collected on-route. Apr 27
Business Architecture Guild - Home
Among the critical business success factors for enterprises to realize the value of service-oriented business transformation is the ability to effectively and efficiently analyze the business's needs and use that analysis to drive the transformation of the business and its supporting architecture.
Building Service-Oriented Banking Solutions with IBM Banking Industry Models and Rational SDP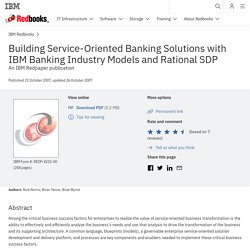 IBM have a very mature and detailed model. It is expensive to buy and to use (in terms of the effort required). If you want rigour it is the model for you. by mbhleh Apr 27
Zachman International® - The Official Home of The Zachman Framework™
Nice idea but in my experience most people don't find it a particularly intuative scheme, there are mode useful models by mbhleh Apr 27
Business Architecture: The Art and Practice of Business Transformation: Amazon.co.uk: William Ulrich, Neal McWhorter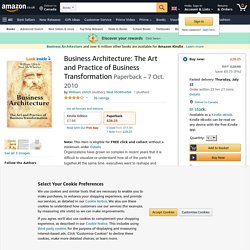 The perennial challenge of Business / IT Alignment has many roots, including different perspectives and different vocabularies.
TOGAF® is the de facto global standard for Enterprise Architecture.
TOGAF®, an Open Group standard | The Open Group
DNA of High-Performing Banks - Next-Generation Core Banking -- Summary
Accenture have an architeture model. From what I have seen it is fluff-ware (high level and you could knock it up yourself quite quickly) by mbhleh Apr 27