Des légendes!!!!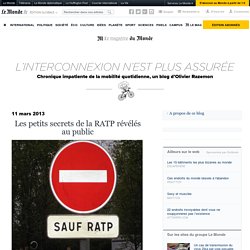 Les petits secrets de la RATP révélés au public
En 2011, 23 voyageurs sont décédés dans le métro parisien, et 7738 se sont blessés. La même année, 71 personnes ont tenté de se suicider dans une station du réseau et les services de sécurité ont recensé 494 atteintes physiques contre les agents de la RATP, 88 (soit 18%) de plus que l'année précédente. Les bus de voyageurs circulant à Paris et en Ile-de-France ont été impliqués dans 13760 accidents de la circulation, au cours desquels 585 voyageurs ont été blessés. C'est la première fois que ces chiffres sont révélés tels quels au public. La 4 la plus lente.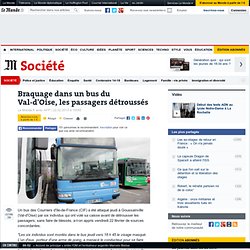 Braquage dans un bus du Val-d'Oise, les passagers détroussés
Un bus des Courriers d'Ile-de-France (CIF) a été attaqué jeudi à Goussainville (Val-d'Oise) par six individus qui ont volé sa caisse avant de détrousser les passagers, sans faire de blessés, a-t-on appris vendredi 22 février de sources concordantes. "Les six individus sont montés dans le bus jeudi vers 18 h 45 le visage masqué. L'un d'eux, porteur d'une arme de poing, a menacé le conducteur pour se faire remettre le fond de caisse, 10 euros", a indiqué une source policière. "Pendant ce temps, les autres ont menacé les passagers avec une autre arme de poing.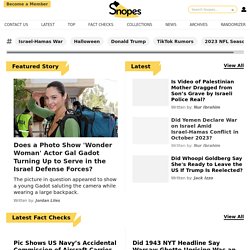 Welcome to snopes.com, the definitive Internet reference source for urban legends, folklore, myths, rumors, and misinformation. Use the search box above to locate your item of interest, or click one of the icons below to browse the site by category. Urban Legends Reference Pages © 1995-2014 by snopes.com. This material may not be reproduced without permission.
È con piacere che il blog Leggendemetropolitane.net annuncia la nascita di Urban Legends, la linea di t-shirt grafiche dedicate alle nostre leggende preferite [Prosegue] Be the first to rate this post Oggi parleremo di una strana sindrome la cosidetta "Sindrome di Lavandonia"! Questa sindrome non è come tutte le altre perche essa si otteneva giocando ad un videogioco: Pokemon Rosso e Pokemon Blu (che in Giappone era "Pokemon Verde"). Questi 2 videogiochi furono i primi della serie "Pokemon" che da allora è divenne una delle più giocate al mondo (tanto che ne fecero una s... [Prosegue]
Leggende Metropolitane | Il sito italiano dedicato al mondo delle leggende metropolitane e del folklore urbano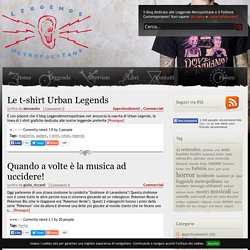 giugno 2004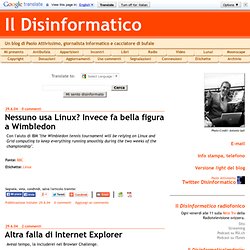 È in corso un diffuso attacco contro siti di ogni genere, comprese alcune banche, che usano il software Microsoft (Internet Information Server). L'attacco introduce in siti apparentemente insospettabili del codice ostile che ha effetto sugli utenti che usano Internet Explorer per visitare i siti infetti. Gli utenti Windows che usano browser alternativi a Internet Explorer, e gli utenti di altri sistemi operativi (Mac, Linux, eccetera), non corrono alcun pericolo da questo attacco.
MedBunker - Le scomode verità
Nota: L'articolo è molto lungo, stavo per dividerlo in due parti ma mi sono reso conto che avrebbe perso d'impatto e continuità. Consiglio quindi di leggerlo con calma (per questo motivo lo lascerò in homepage per più giorni del solito) o di stamparlo. Grazie. Per chi volesse conoscere i particolari (tanti) delle due vicende può leggere qui relativamente al "caso Di Bella" e qui per il "caso Stamina"