Education/Teaching Tools
Kurt Vonnegut explains drama | Derek Sivers
I was at a Kurt Vonnegut talk in New York a few years ago. Talking about writing, life, and everything. He explained why people have such a need for drama in their life. He said, "People have been hearing fantastic stories since time began. The problem is, they think life is supposed to be like the stories.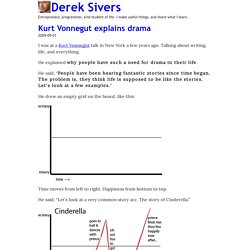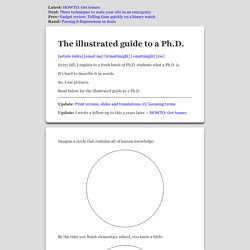 Imagine a circle that contains all of human knowledge: By the time you finish elementary school, you know a little: By the time you finish high school, you know a bit more:
The illustrated guide to a Ph.D. - StumbleUpon
- StumbleUpon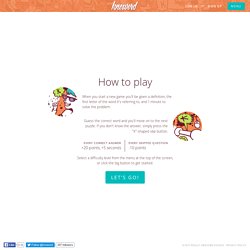 Knoword is a quick thinking game that helps boost vocabulary, spelling, speed of thought, as well as increasing analytical, observational and typing skills. When you begin, you will be greeted with a single letter. Underneath will be a dictionary definition to a word, which will begin with the letter in the box. Fill in the rest of the word and be rewarded with points and extra time. The object of the game is to complete as many words as possible.
Knoword | Expand your vocabulary! - StumbleUpon
Z-Type
Forbidden Fruit: Illegal Fruits & Foods - StumbleUpon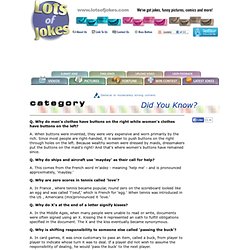 Lots of Jokes - Did You Know?
Q. Why do men's clothes have buttons on the right while women's clothes have buttons on the left? A. When buttons were invented, they were very expensive and worn primarily by the rich.
Amazing Fact Generator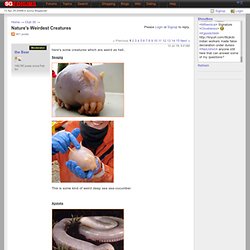 here's some creatures which are weird as hell.. Seapig This is some kind of weird deep sea sea-cucumber. Ajolote Not to be confused with the Axolotl (which comes later) this is an Ajolote, which is a freaky long retile found in Mexico with only two legs. Aye-Aye
SgForums :: Singapores Online Community - Natures Weirdest Creatures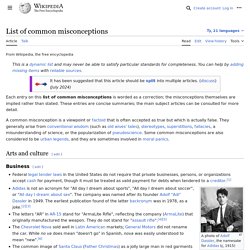 This incomplete list is not intended to be exhaustive. This list corrects erroneous beliefs that are currently widely held about notable topics. Each misconception and the corresponding facts have been discussed in published literature. Note that each entry is formatted as a correction; the misconceptions themselves are implied rather than stated.
List of common misconceptions - Wikipedia, the free encyclopedia - StumbleUpon
Air traffic in 24 hours
Solving programming puzzles is a fun way to develop your logical and problem solving abilities. Also, when you're familiarizing yourself with a new programming language, solving puzzles for that language can help speed up the learning process. Here are the top 10 popular programming puzzle sites that will help test your thinking and improve your programming, problem solving, and logical thinking skills. 1.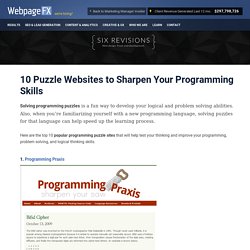 10 Puzzle Websites to Sharpen Your Programming Skills
And those whose hearts are fixed on Reality itself deserve the title of Philosophers. (Plato, Republic, 380BC) Denying realism amounts to megalomania (the most widespread occupational disease of the professional philosopher). (Karl Popper, 1975)
On Truth & Reality: Philosophy Physics Metaphysics of Space, Wave Structure of Matter. Famous Science Art Quotes.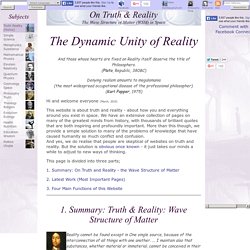 How to solve a Rubik's Cube (Part One)
How to solve a Rubik's Cube (Part Two)
1. It's not that I'm so smart, it's just that I stay with problems longer.—Albert Einstein 2.
Inspirational and Wisdom Related Quotes - Global One TV - StumbleUpon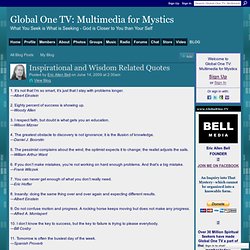 Since 2008, Academic Earth has worked diligently to compile an ever-growing collection of online college courses, made available free of charge, from some of the most respected universities. We proudly build on the precedent set forth by MIT OpenCourseware, believing that everyone deserves access to a world-class education. To facilitate this goal, we have curated links to over 750 online courses and 8,500 individual online lectures, giving students of all ages unparalleled access to college courses they may otherwise never experience.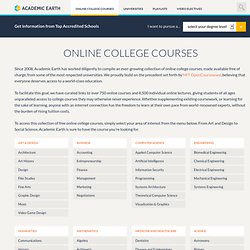 Introduction to Computer Science and Programming | MIT Video Course