Mbeaux
Miles
Welcome to Fourmilab's calendar converter! This page allows you to interconvert dates in a variety of calendars, both civil and computer-related. All calculations are done in JavaScript executed in your own browser; complete source code is embedded in or linked to this page, and you're free to download these files to your own computer and use them even when not connected to the Internet. To use the page, your browser must support JavaScript and you must not have disabled execution of that language.
Calendar Converter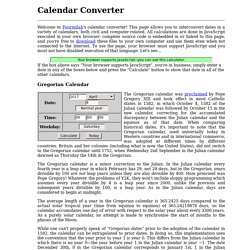 Description:This is 3-Way audio video AV RCA switch splitter, which is allow your TV Set to be connected with 3 video devices, such as XBOX, DVD, PS2.Connect 3 video devices (such as XBOX DVD PS2) to the "Input1, 2, 3" connectors while your TV to the "Output" connector with the offered RCA cable. Then, at once you want to use one of the three connected Video devices, just pull the switch to the relative "Output 1, 2, 3" rather than discommodiously reconnect the video devices again and again.Convenient to use.
3-way AV Audio Video RCA Switch Box Selector Splitter for Xbox 360, DVD, PlayStation 2/PS2, PlayStation 3/PS3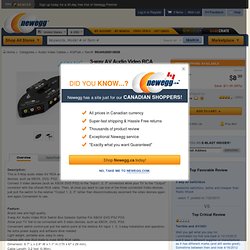 Amazing Video: Flying 'People' Swoop Through New York City
Welcome to Authorama.com, featuring completely free books from a variety of different authors, collected here for you to read online or offline. The books may have been published before, but not in this form, which I hope you find enjoyable to read and print. Feedback is welcome – enjoy the reading. "The site was something I would never have thought to look for but as I've seen it now it has been a wee surprise.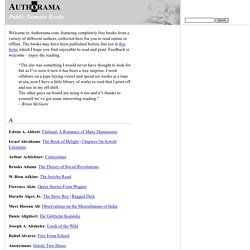 - StumbleUpon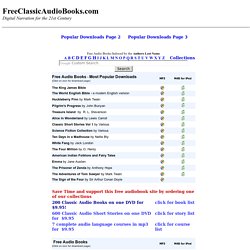 Free Audio Books Indexed by the Authors Last Name A B C D E F G H I J K L M N O P Q R S T U V W X Y Z Collections The downloads are available in mp3 and in m4b audio book format for iTunes and the iPod. The advantage of using the iPod format is that it remembers where you stop in a file. The iTunes player software is available for free download here. New books will be added often!
NIEHS Kids Page -- Optical Illusions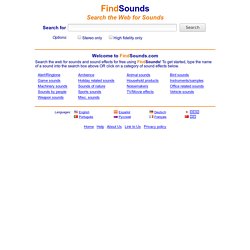 Welcome to FindSounds.com, a free site where you can search the Web for sound effects. Click here to see the types of sounds you can find. On August 1, 2012, FindSounds.com celebrated its 12-year anniversary as the leading Web search engine for sound effects. Using a smartphone or other handheld device? Check out our new app, FindSounds for Android, or go to FindSounds Mobile, the new mobile version of FindSounds.com. FindSounds Palette is a software program that lets you search more than one million sounds on the Web and helps you organize and search your own sound collection.