Week 5 - Biology of Cancer
Cell Cycle: An Interactive Animation
1. Older colorectal cancer stages is based on Dukes staging system. Stage 1: (Dukes'A): 0) lesions limited to mucosal layer (carcinoma in situ).
Stages of Colorectal Cancer with Dukes and TNM staging system | Health Topics
Union for International Cancer Control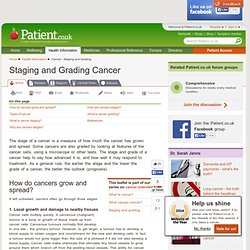 Staging and Grading Cancer
If left untreated, cancers often go through three stages: 1. Local growth and damage to nearby tissues Cancer cells multiply quickly. A cancerous (malignant) tumour is a lump or growth of tissue made up from cancer cells. Cancerous tumours normally first develop in one site - the primary tumour.
Healthtalkonline, an award-winning charity website, lets you share in patients, family and professional experiences of health and illness. : Healthtalkonline
Chronic Myelogenous Leukemia Treatment (PDQ®)
Treatment statement for Health professionals Get this document via a secure connection General Information About Chronic Myelogenous Leukemia Stage Information for Chronic Myelogenous Leukemia Treatment Option Overview Chronic-Phase Chronic Myelogenous Leukemia Accelerated-Phase Chronic Myelogenous Leukemia Blastic-Phase Chronic Myelogenous Leukemia Relapsing Chronic Myelogenous Leukemia Changes to This Summary (02/14/2013) About This PDQ Summary Get More Information From NCI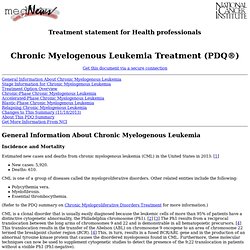 Malignant melanoma - Cancer Information
Lecture resources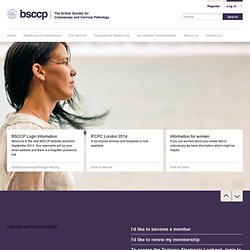 We thought it would be useful to set up an area for sharing lecture resources pertinent to the practice of colposcopy We hope you find these useful. Feel free to submit any lecture resources which you think might be suitable. Simply save your powerpoint presentation and email to: debbie.lewis@bwhct.nhs.uk Feel free to add narration as well if you like. We can then convert the presentation to a video format and add an interactive quiz to make it more interesting. It would be really helpful if you could attach some relevant questions and answers and we can integrate these into the presentation.
Colposcopy
If you have been invited for screening, or have been for screening and have any questions about the result, you should contact the name and address shown on your invitation letter or result letter. If you are worried about a specific problem, or otherwise worried about the risks of cancer, then you should talk to your GP . Screening is for people without symptoms. If you are concerned about any symptoms, please contact your GP or visit NHS Direct Online . Remedica cervical screening DVDs Click on the images below to view the English language patient modules.
Cervical Screening Programme (NHSCSP)