Week 7 - Altered memory and conciousness
Anaesthesia UK : FRCA Home Page for Anaesthestists in training for postgraduate exams. Alzheimer's Society - Leading the fight against dementia. Epilepsy. This guidance has been replaced by CG137 Epilepsy Other information How this guidance was produced Background information None found This page was last updated: 11 January 2012 Guideline formats Patient The summary of the key recommendations in the guidance written for patients, carers and those with little medical knowledge and may be used in local patient information leaflets.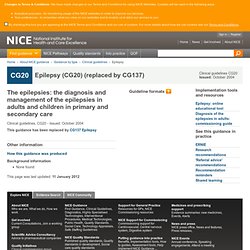 Quick Reference Guide. BalanceDisorderWithout. Multiple Sclerosis. What is Multiple Sclerosis.
---