Hotels
B&B and Homestay in London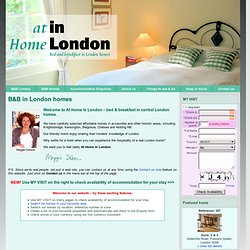 Maggie Dobson Welcome to At Home in London – bed & breakfast in central London homes. We have carefully selected affordable homes in accessible and often historic areas, including Knightsbridge, Kensington, Belgravia, Chelsea and Notting Hill. Our friendly hosts enjoy sharing their insiders' knowledge of London.
The Zetter | Boutique Hôtel a Coeur Londres | a côté de Kings Cross St Pancras
portobello-hotel.co.uk
The Mayflower Colletion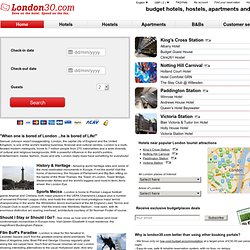 "When one is bored of London ...he is bored of Life!" Samuel Johnson wasn't exaggerating. London, the capital city of England and the United Kingdom, is one of the world's leading business, financial and cultural centres. London is a multi-faceted modern metropolis, home to 7 million people from 270 nationalities and a wide diversity of cultural and religious backgrounds. With a powerful influence in the world's politics, entertainment, media, fashion, music and arts, London really does have something for everybody! History & Heritage - Amazing world heritage sites and some of the most celebrated monuments in Europe, if not the world!
London cheap hotels, hostels, apartments and b&bs, London30
Hoxton Hotel in the City of London
What is a Hip Hotel? Hip is your secret find, more than just a hotel, a place where you need never worry about recommending to your closest friends and here's our handpicked favourites. From the cool zebra stripes in The Zetter lounge to the crisp white walls and bar tunes in K-West; from Hotel Verta with its James Bond Heli-Pad to the fine lines and eclectic design of The Mandeville in Marylebone, London is, without doubt, a very cool city to choose and stay at your Hip Hotel. Hip hotels form a key element of your experience and Hotels-London's choice of truly Hip Hotels aims to be as stylish and original as possible, from the in-room decor to the carefully chosen ingredients for the chefs menu to the discreet and attentive service.
Hip Hotels London | Hotels-London.co.uk