Children
Lapin & Me — Products. The best in baby products, baby gifts and baby registry | giggle.com. The Piggyback Rider® Child Carrier/Kid Carrier. Designer Baby Clothes, Funky Baby Clothes & Clothing | Oh Baby London. Modern Baby Clothes for Your Cool Baby or Toddler. Feeding Pillow, Nursing Pillow, Pregnancy Pillow, Baby bonding :: Boppy. Unique Baby Gifts | Children's Boutique | Baby Boutique. Pink Taffy Designs online baby boutique is your source for the trendiest in baby and children's gear.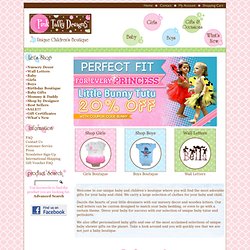 We carry thousands of unique baby gifts which are sure to delight even the most discerning parents and children. Every item in our baby boutique is hand curated meaning that before we choose to showcase the item in our baby boutique, we make sure that it is a baby gift that we would be proud to give to our own. Our baby boutique is very well known for carrying some of the most distinguished baby gifts in existence.
Take a look around, and you will be sure to notice that you are shopping in the same space as many celebrity parents. Pomme. Baby Slings: $29.99 | Free Shipping | The HugaMonkey Baby Sling. Bubba Funk - We stock funky newborn gift boxes, baby clothing, toddler toys, new baby accessories and gift items for new mums too! Online Baby clothes | Funky baby clothes | Unusual baby gifts. Designer Diaper Bags | Cool Baby Clothes | Diaper Bags for Dads. Gifts for Kids, Gifts for Children. Gift Boxes - New baby gifts and Christening gifts - Contents.
Welcome to boxtot.....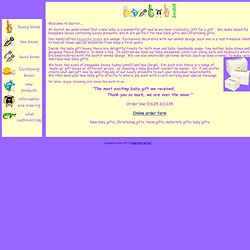 At boxtot we understand that a new baby is a wonderful gift and so we have created a 'gift for a gift'. We make beautiful keepsake boxes containing luxury presents, which are perfect for new baby gifts and Christening gifts. Mibo Lighting and Homewares. Welcome to Burp! Boutique. The shop for designer toys, graphic novels, books, art, t-shirts, accessories and jewellery. Welcome to romp.
Clothes. Deco.
---