Body & Face
Tan
Toys. Aromatherapy. Adore Beauty - Skin Care | Makeup | Cosmetics Online. Organic Personal Care Products. Health and Beauty, Pharmacy and Prescriptions, UK Chemist. Boots.com skip to main content Sign In or Register My Account A-Z brands Store locator.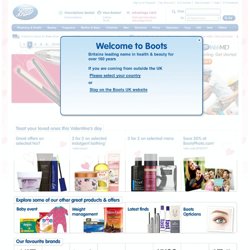 Honeycat Cosmetics Bath and Body Treats for Women. DermStore.com : Kinerase - Obagi - La Roche Posay - Jan Marini. Plazan Natural Skin Care Products Catalog. This Works Natural Skincare, Bath and Body Products. Beauté-test.com : Guide d'achat produits de beauté et cosmétiques.
Tattoo Potion. John Lewis | Furniture, TVs, Men's & Women's Clothing, Toys & More. Goddess Within. Untitled. Sephora: Parfum, maquillage, cosmétiques, produits et conseils beauté. La parfumerie en ligne. Sally Beauty Supply has hair products, salon supplies, spa supplies, cosmetics, and more! Frontpage - Sprout A Revolution. Modern Lux Apothecary. Burt's Bees UK | Natural Skin Care, Cosmetics, Products | Remedies, Gifts & Kits Online | I Love Burt.
Nature Girl. Dry Shampoo - Natural Nail Polish - Natural Skin Care - I Heart Unicorns Perfume - Vivienne Pickle. Rose & Co. Apothecary | Home. Space NK. Face + Body. MOR Essentials From MOR Cosmetics. Beauty Bets. Home. Blancrème. LUSH. Anatomicals. Kiehl's Since 1851 – Skin Care, Body, Men, Hair, Gifts & More. LuLu Organics | Organic Beauty Products | Home. REN Clean Skincare - Discover Beautiful, Healthy Skin. W3LL People - Beauty + Planet + Love W3LL People. First Aid Beauty: Skin Care- Treat, Combat, Nourish, Protect. Obsessive Compulsive Cosmetics | Professional Cosmetics | Professional Makeup | 100% Vegan & Cruelty-Free.
Supplements. Hair. Face. Perfume.
---