Shopping
Vintage Clothing Retro Apparel Vantage Point Vintage Indie Mod Hipster Avant Garde (Powered by CubeCart)
We welcome you to our wonderful world of unique clothing, accessories, handbags, and shoes, where fresh floral patterns and flirty designs flourish, and fun frocks and fabulously flattering swimwear spring into style. ModCloth provides an exciting and engaging online shopping experience for everyone in search of cute clothing with remarkable flair. Dozens of darling designs are added daily, so check back often for our perfect pieces of statement jewelry, the dresses you've been dreaming of, coveted vintage pieces, and an ever-expanding array of unique clothing. We're your sweetest source for women's clothing and uncommonly cute fashion! With international shipping options, ModCloth is on top of the world! Our global community is always growing, so were happy to be able to ship unique items from independent designers and cute clothing to many countries worldwide. Men | Tee Tops | Indie Clothes & Accessories | Online Clothing Store
Get Any 10 Of Our Original Tees For Only $50! As if $6 for one of our awesome original t-shirts wasn't cheap enough, we are offering you, the sweet public, a bountiful ten t-shirts for the absurdly low price of only 50 bucks! Pick from over 300 tantalizing designs in over 15 different titillating categories. No other online t-shirt store can even come close to these prices! Your discount will be applied automatically to your shopping cart total at the time of checkout. Shipping is not included.
Retro & Vintage Tees :: 6DollarShirts.com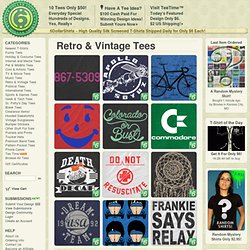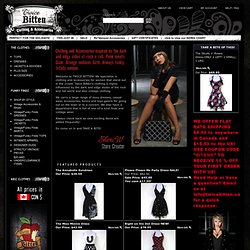 Welcome to TWICE BITTEN! We specialize in clothing and accessories for women that stand out in the crowd. Twice Bitten's clothing is highly influenced by the dark and edgy styles of the rock and roll world and also vintage clothing. We carry a large range of sexy dresses, casual wear, accessories, tunics and tops galore for going out on the town or to a concert. We also have a department that is full of one-of-a kind finds and vintage wear. Always check back as new exciting items are added frequently!
Twice Bitten Online Clothing Boutique- Brand new and vintage funky women's clothing
Womens Bags - Vintage Clothing, Indie Clothing, Retro Clothing & Fashion
Second Hand Shop : Vintage Clothing, Vintage Dresses, ADOREVINTAGE.com, A vintage clothing boutique for the woman with discerning tastes
*Buy a new .COM, get one new .INFO for FREE for 1st year only. Not valid on renewals or transfers. Plus ICANN fee of 18¢ per domain per year. † Good for one 1-year registration of any available .COM, .US, .BIZ, .INFO, .NET or .ORG **New .COs, first year only. Offer ends 8/31/2012. ‡ Annual discounts available on NEW purchases only.