Fasting
Welcome to the Fast-5 website | Fast-5 Life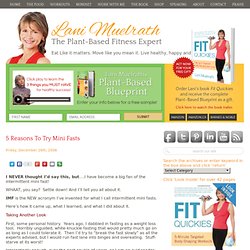 5 Reasons To Try Mini Fasts - Lani Muelrath | Lani Muelrath
I NEVER thought I'd say this, but….I have become a big fan of the intermittent mini fast! WHAAT, you say? Settle down! And I'll tell you all about it. IMF is the NEW acronym I've invented for what I call intermittent mini fasts. Here's how it came up, what I learned, and what I did about it.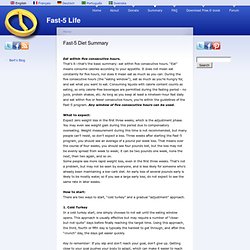 Diet Summary | Fast-5 Life
Eat within five consecutive hours.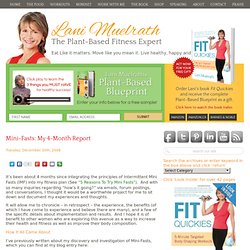 Mini-Fasts: My 4-Month Report - Lani Muelrath | Lani Muelrath
It's been about 4 months since integrating the principles of Intermittent Mini Fasts (IMF) into my fitness plan (See "5 Reasons To Try Mini Fasts"). And with so many inquiries regarding "how's it going?" via emails, forum postings, and conversations, I thought it would be a worthwhile project for me to sit down and document my experiences and thoughts. It will allow me to chronicle – in retrospect – the experience, the benefits (of which I have come to experience and believe there are many), and a few of the specific details about implementation and results. And I hope it is of benefit to other women who are exploring this avenue as a way to increase their health and fitness as well as improve their body composition. How It All Came About