Fasting
Welcome to the Fast-5 website | Fast-5 Life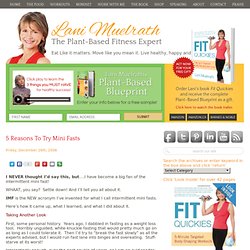 5 Reasons To Try Mini Fasts - Lani Muelrath | Lani Muelrath
I NEVER thought I'd say this, but ….I have become a big fan of the intermittent mini fast! WHAAT, you say? Settle down! And I'll tell you all about it. IMF is the NEW acronym I've invented for what I call intermittent mini fasts. Here's how it came up, what I learned, and what I did about it.
Intermittent Fasting | Eat Stop Eat | Fasting Diet Plan | Yes, it really works!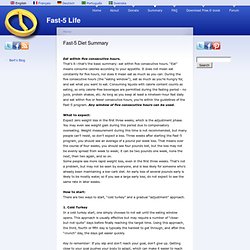 Diet Summary | Fast-5 Life
Eat within five consecutive hours. That's it—that's the basic summary: eat within five consecutive hours. "Eat" means consume calories according to your appetite.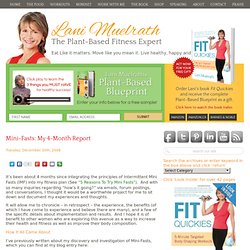 Mini-Fasts: My 4-Month Report - Lani Muelrath | Lani Muelrath
It's been about 4 months since integrating the principles of Intermittent Mini Fasts (IMF) into my fitness plan (See "5 Reasons To Try Mini Fasts") . And with so many inquiries regarding "how's it going?" via emails, forum postings, and conversations, I thought it would be a worthwhile project for me to sit down and document my experiences and thoughts. It will allow me to chronicle – in retrospect – the experience, the benefits (of which I have come to experience and believe there are many), and a few of the specific details about implementation and results. And I hope it is of benefit to other women who are exploring this avenue as a way to increase their health and fitness as well as improve their body composition. How It All Came About