trends
Get flash to fully experience Pearltrees
After analysis of hundreds of data points collected around the modern family experience and how it is changing, the PSFK consulting team noticed that an array of apps and platforms are helping parents respect their children's desire for autonomy while simultaneously staying in control and setting measurable expectations. In most cases, these platforms work towards encouraging good behavior and instilling life lessons, while offering incentives for keeping up good habits.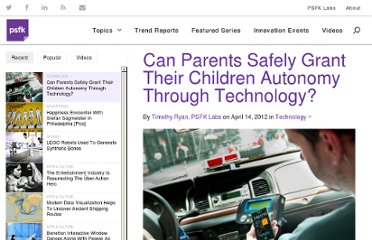 February 6, 2013
2012 consumers have had to learn to feel at ease with thrift as economic downturns just won't seem to go away .
Swelling masses of urbanites with lifestyles to suit – style, tech and convenience-savvy – soak up new cultural influences that are blending with fresh brand experience-led approaches. This piece is the first in a weekly series of consumer comments exploring each of the trends Euromonitor International identified in the recent TOP 10 CONSUMER TRENDS FOR 2012 article. In 2012, Euromonitor International forecasts that there will be 3.7 billion urban residents worldwide .
The new solution delivers a fast track route for MTN to quickly introduce relevant, new and differentiated m-wallet market offerings to its Mobile Money customers to create an optimized user experience. The partnership between Ericsson and MTN supports the operators' strategy to secure a flexible, reliable and efficient solution in the area of mobile financial services. As part of the co-operation, Ericsson will offer a prime integrator engagement model encompassing software, systems integration and managed operation services.
People queuing at money exchange houses to fill in remittance forms could soon be a thing of the past. More people are using mobile phones to send money home — resulting in instant transfers