E-mail info
Email Ports and Mail Servers. As used by Netwin for brevity the term "email server" refers to the two servers required for sending and receiving email, i.e. the SMTP and POP servers.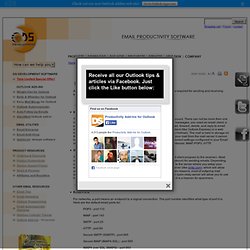 Incoming and Outgoing Mail Servers Incoming Mail Server (POP3, IMAP, HTTP) The incoming mail server is the server associated with you email address account. There can not be more then one incoming mail server for an email account. 101: Beginners guide to IMAP vs. PoP | Mobile. While many of the email users of the world are perfectly happy to use their browser based client with whatever the pre-defined rules are for their configuration, it's important to remember that you have control over how your email travels.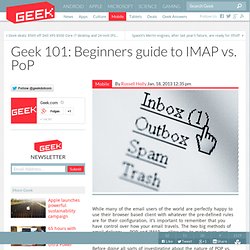 The two big methods of email delivery — POP and IMAP — allow you to make sure your email is available the way you want it. Before doing all sorts of investigating about the nature of POP vs.