Prehistory
#82: Humans Took Care of the Disabled Over 500,000 Years Ago | H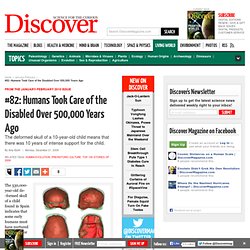 The 530,000-year-old de­-formed skull of a child found in Spain indicates that some early humans must have nurtured and cared for disabled members of their tribe. This child, estimated to be 10 years old at the time of death, had a debilitating birth defect called craniosynostosis, in which joints in the skull fuse before the brain has finished growing. The disorder increases pressure in the skull, impairing brain development. "It is amazing that this child was able to survive until 10 years old.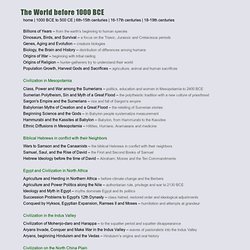 Population Growth, Harvest Gods and Sacrifices – agriculture, animal and human sacrifices Civilization in Mesopotamia Class, Power and War among the Sumerians – politics, education and women in Mesopotamia to 2400 BCE
Index of Native American History Resources on the Internet
Native American Indian languages Native culture What's new on our site today! Judging from the email I get, there are a lot of people out there trying to learn about traditional Native American religion and spirituality these days. Many of them are trying to do this on the Internet.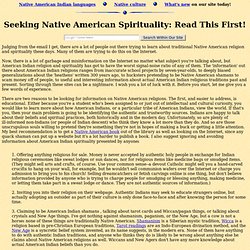 Seeking Native American Spirituality and Traditional Religion: R
Biology, Evolution and More Human Origins News | Discover Magazi
Forget what you know about simpleminded cavemen. Scientists have discovered that Neanderthal diets were sophisticated, their tools efficient, and their development more similar to ours than researchers ever imagined. Neanderthals are widely viewed as big-game-hunting carnivores who lacked the culinary expertise of modern humans. Now researchers working at two sites on Gibraltar have discovered that Neanderthals were in fact skillfully exploiting the diverse dietary riches of their coastal environment around 40,000 years ago—some 10,000 years before the ancestors of modern humans ever set foot on the peninsula. A study published in September in Proceedings of the National Academy of Sciences [subscription required] shows that Neanderthals ate seals, dolphins, and fish.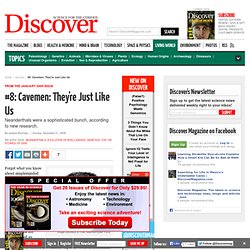 #8: Cavemen: They're Just Like Us | Neanderthals | DISCOVER Maga