Amplifiers
Kendrick Amplifiers, Tube Amps, Guitars, Books, DVDs, and Tube Amp Parts ~ Welcome!
You can scroll through the images above using the Image scroll controls or you can use the Left and Right arrow keys on your keyboard. The EL34 World Tube amp Library of information Click the link above for Tube amp info, Tube amp schematics, Tube amplifier circuit board building information, tube projects, Amp mods, Tube amp transformer diagrams, Photo's, Sound clips.
Hoffman Amps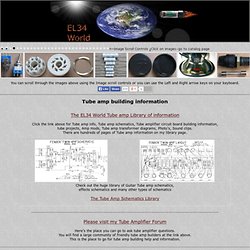 A cool new tool for supplementing your kick drum mic and adding thunderous low end. (We are still waiting on the Ceramic Sig 10 and 10S, and the ribbed Alnico Sig 6) Hey Music City! Weber Speakers, Attenuators, and other products are now available at Rock Block Guitars in Nashville, TN. If you live in or around the area, stop in and check them out.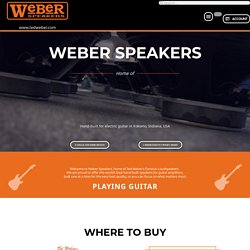 Weber Speakers - Making the world a bit louder each day.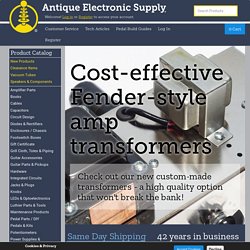 Antique Electronic Supply
Nut Slotting Gauge The Nut Slotting Gauge quickly and precisely measures the heights of the strings over the first fret, so you can file nut slot depths more accurately than ever before. That means easier, more consistent playability, that you can custom-tailor to individual instruments and playing styles. No more guesswork or "eyeballing" the string heights, and no more searching for elusive combinations of feeler gauge.